By Laurie Hindman
Berthoud Recorder
Have a hankering for Chinese food? Look no further than Fifth Street and Welch Avenue. Family owned and operated, New China Chan restaurant has been serving Asian food to the Berthoud community since 1995. Owner and manager Chanrith Oum says they not only prepare popular Chinese dishes such as sesame chicken, orange chicken and chow mein, his wife has expertise in preparing Thai, Japanese and Vietnamese dishes as well. "If you call us ahead of time we can make Pud Thai or Japanese teriyaki, for example," said Oum.
New China offers a daily lunch combo that includes soup of choice, egg roll, fried rice or steamed rice and a main dish for $4.99 to $5.25 and that is a lunch deal that is hard to beat. They offer dinner specials as well: choose from a variety of specialty dishes including, shrimp with garlic sauce or crispy steak cubes. Dinner includes a choice of soups (egg drop, wonton or hot and sour) and appetizers (egg roll, crab Rangoon, and crispy prawn), and fried or steamed rice, for $10.50 per person
New China Chan is open for lunch Monday through Friday, 11 a.m. to 2 p.m., for dinner from 5 p.m. to closing, and Saturdays for dinner only from 5 to 9 p.m. For carry out, call (970) 532-3895.
Category:
News – Business
News Image: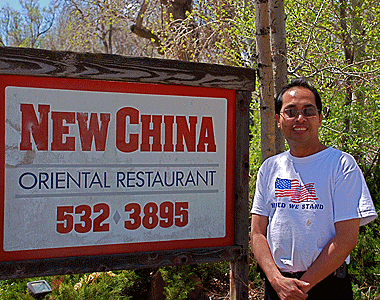 Long Description:
<p>Manager Chanrith Oum and his family has been operating the New China Chan restaurant since 1995.</p>
Category Lead:
Category Secondary Featured Story

Print This Post