By Laurie Hindman
Berthoud Recorder
Stop by Pizza Hut near Hays Market and you may do a double take –– fresh paint in bold colors, new checkered tables, sports bar décor and corner TVs tuned to the game of the day.
Although it is sporting a new look, Pizza Hut still offers the same great deals and is open Mondays through Thursdays from 11 a.m. to 9 p.m., Fridays and Saturdays from 11 a.m. to 10 p.m., and Sundays noon to 9 p.m. Don't miss the "all you can eat" lunch buffet with pizza, pasta, bread sticks, salad and desserts for only $5.99 for adults and $3.99 for kids (four and under eat for free).
On Wednesdays, kids 12 and under eat for free — a night out for the family that can't be beat. Friday is Hawaiian night where a medium Hawaiian pizza goes for $8 and large for just $10.
From now through June, Pizza Hut is offering a family feast: two large pizzas any way you want them and ten breadsticks for just $26.99.
Order online at www.pizzahut.com or call (970) 532-1111. The Berthoud Pizza Hut is operated by general manager Kevin Peters and assistant manager Diane Trojahn.
Category:
News – Business
News Image: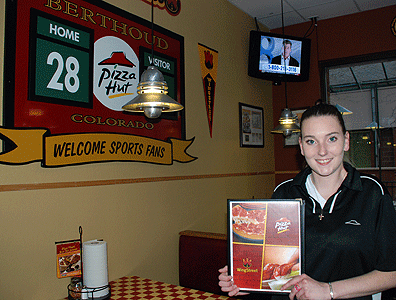 Long Description:
<p>Server Heather Moore shows off some of Pizza Hut&rsquo;s new decor.</p>
Category Lead:
Category Secondary Featured Story

Print This Post