By Laurie Hindman
Berthoud Recorder
When you think of French restaurants you usually think of gourmet dining at gourmet prices, but in Berthoud you can have authentic French fare that's both delicious and affordable.
In French the word "bistro" means a small, friendly, inexpensive restaurant; the Retro Bistro is all that. It offers a family friendly, affordable menu with items on the regular menu ranging from $12 to $25 and an additional "Price Buster" menu available Monday through Thursday with nothing on the menu over $12.95.
If you have longed for a family spaghetti house seek no more. The Price Buster menu has a huge plateful of spaghetti and meatballs for just $9.95, chicken parmagiana for only $11.95, an apple wood bacon buffalo burger for just $10.95 and even steak with herb garlic butter for only $12.95. Top it off with a glass of pinot noir or Italian beer for just $4.50 and you have a scrumptious dinner in an intimate, warm atmosphere without breaking the bank. As always, a children's menu is available.
The Retro Bistro is open Monday through Saturday, from 5 p.m. until closing. The Bistro will be offering a Mother's Day Brunch on Sunday, May 10. For more information or to make reservations, call (970) 532-4095.
Category:
News – Business
News Image: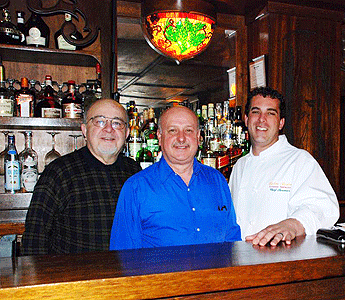 Long Description:
<p>The Retro Bistro owners, Jean Pierre Barat and Herve Lequien, with Chef Boomer Coates.</p>
Category Lead:
Category Secondary Featured Story

Print This Post