Man cannot live by bread alone, but a fresh baked loaf is a complement to any meal. Syria Bakery has been a regular vendor at the farmers market for the past several years and is one of the busiest booths at the market.
The owner, Peter Kaiser, has been baking bread since fifteen; an accomplished chef, he now sells bread up and down the Front Range at Farmers Markets during the summer months. Employee Kirby Crawford said there is no storefront, and likes it that way. "Hey, it's much more fun to be outdoors going from town to town. Everybody who comes to these markets tend to be very friendly."
What do Styria employees do during the winter months when the farmers markets are closed for the season?
"Ski of course," laughed Crawford.
For only $5 a loaf, Styria offers an incredible variety of breads including: Asiagio basil, Tuscan Italian, roasted garlic loaf, jalapeno jack and my personal favorite, walnut cranberry. One of the most popular breads, according to Crawford, is the lemon white chocolate. "It makes great French toast," advised Crawford.
A typical pairing with bread, perhaps joined by nice slab of cheese, is wine. But an even older pairing is bread and mead. A short stroll down the greenway from the Styria Bread stand leads to Bacchus Meadery, and Phinnius McRood and Jason Kittel, two Bacchus employees and mead aficionados who gave a short history of the drink.
"Mead is the oldest alcoholic beverage and was the daily drink of both nobility and peasants for centuries," said Kittel. They explained that mead was a staple throughout Europe, Africa and Asia and was considerably safer to drink than the bacteria filled water. Consumed by children and adults alike, mead used to be drunk even at breakfast.
"What do you mean used to be?" joked McRood. The meadery, located in Loveland, creates a half or so different meads using only Colorado honey. Their slogan, "It's not red, it's not white, it's GOLD" accurately reflects the brew's color. The wine bottles are filled with the deep gold liquid, and samples of the yummy concoctions are available to customers. Like wine or homebrewed beer, the mead is subtly spiced with vanilla, berries, herbs, pepper and even chocolate. The mead flavor ranges from the smoky and sweet to the dry and tart.
"We don't usually get the wine connoisseurs," remarked Kittel, "but we do get a lot of people who like microbrews. They tend to have the 'beer drinking attitude' and are more open to trying something new."
To bring home your fresh baked bread and locally brewed mead, stop by the Berthoud Farmers Market every Thursday, at the greenway by Third Street and Mountain Avenue, from 3 to 7 p.m. The Farmers Market is also open on Saturdays from 9 a.m. to 1 p.m.
Category:
News – Business
News Image: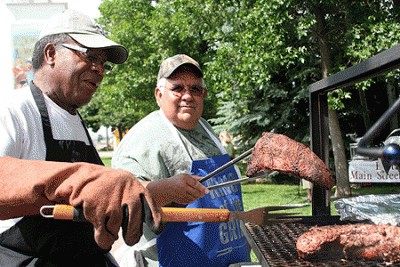 Long Description:
<p>Business partners and brothers-in-law Warren Scott, left, and Gil Vigil serve Santa Maria, West Coast BBQ &mdash; tender tri-tip steak cooked over an open wood fire. Come to the Berthoud Farmers Market on Thursday afternoon and evenings to try it for yourself.</p>
Category Lead:
Category Secondary Featured Story

Print This Post