From a Press Release
Loveland, Colo. – The 2010 Miss Colorado High School Pageant took place February 6 at the Roberta Price Civic Auditorium in Loveland, Colorado. With the La Quinta Inn & Suites in Loveland being the Official Host Hotel. Twenty-one delegates from all over the state of Colorado competed for the coveted crown.
Annika Sandberg from Gypsum captured the judge's votes and was Crowned Miss Colorado High School 2010! Along with wining the prestigious title, Annika won the Best in Evening Gown award. Annika won a prize package valued at over $28,000 including a $20,000 scholarship to Regis University in Denver. She will advance on to compete at the national Miss High School America in March in Branson, Missouri.
Finalists were:
Top 5 Photo, left to right:
4th Runner Up & Best in Interview Winner: Kristen Schubert (Calahan), 2nd Runner Up & Miss Congeniality Winner: Sarah Noble (Aurora), Miss Colorado High School 2010 & Best in Evening Gown Winner): Annika Sandberg (Gypsum), 1st Runner Up & Best in Fun Fashion Winner): Jamie Bell (Louisville), 3rd Runner Up: Erin Christensen (Mead)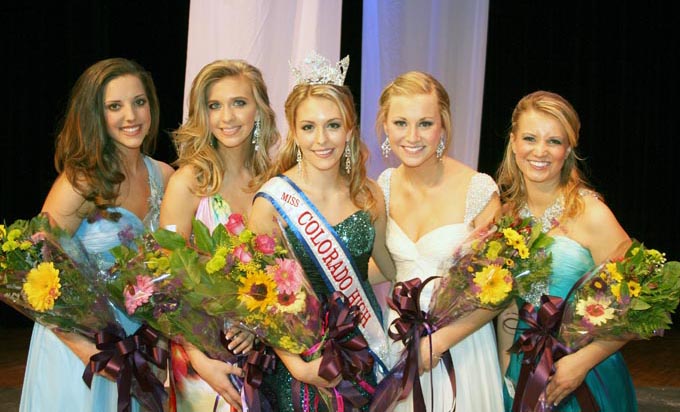 Top 10 Photo, left to right:
Semi Finalists: 1st row: Jamie Bell (Louisville), Sarah Noble (Aurora), Miss Colorado High School 2010, Annika Sandberg (Gypsum), Erin Christensen (Mead), Kristen Schubert (Calahan),
2nd row:  Mallory Richardson (Pueblo), Caitlyn Clinton (Loveland), Emily Schlehuber  (Fort Collins), Rachael Lake (Franktown), Emilie Perdue (Pueblo)

Print This Post