The following article from Salon, one of many stories on this tragedy, give an excellent overview of what many consider the unreasonable attack by the government and MIT on one of technologies brightest stars and internet freedom activist. It illustrates how the government is usurping our civil rights and freedoms. Please read careful, you could be next. If you listen or watch on Main Stream Media for your news, you had very likely never heard anything about this outrage.

[1]
Anonymous hacks MIT for Aaron Swartz [2]
Hackers, activists direct anger at government and institutions that threatened a young genius with life in jail
By Natasha Lennard [3]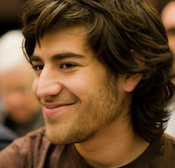 When news first spread of Aaron Swartz's suicide, a number of early response articles focused on and lamented the 26-year-old programmer and thinker's struggle with severe depression. A statement released [4] by the Reddit co-founder's family and partner on Sunday directed anger and blame elsewhere: the institutions — the U.S. government and MIT — that would see the brilliant technologist and social justice activist jailed for up t0 50 years.
"Aaron's death is not simply a personal tragedy," the statement read, "It is the product of a criminal justice system rife with intimidation and prosecutorial overreach. Decisions made by officials in the Massachusetts U.S. Attorney's office and at MIT contributed to his death."
Over the weekend, the thin veins connecting disparate social justice activist and hacker networks have pulsed thick with anger, sadness and a shared desire to fight the conditions that drove Swartz to his death. Anonymous has already struck. [5] The hacker collective broke into MIT's website and replaced the homepage with a tribute, "In Memoriam, Aaron Swartz."
The hackers left a statement decrying the lawsuit Swartz was facing for downloading millions of academic articles from MIT's JSTOR database – for which the activist could have been jailed for decades. The statement called the Justice Department's pursuit of Swartz "a grotesque miscarriage of justice" and "a distorted and perverse shadow of the justice that Aaron died fighting for."
In tribute to Swartz's fight for free data, the hackers called for renewed efforts to change "computer crime laws, and the overzealous prosecutors who use them." The statement continued:
We call for this tragedy to be a basis for reform of copyright and intellectual property law, returning it to the proper principles of common good to the many, rather than private gain to the few.
We call for this tragedy to be a basis for greater recognition of the oppression and injustices heaped daily by certain persons and institutions of authority upon anyone who dares to stand up and be counted for their beliefs, and for greater solidarity and mutual aid in response.
We call for this tragedy to be a basis for a renewed and unwavering commitment to a free and unfettered internet, spared from censorship with equality of access and franchise for all.
Anonymous' tribute to Swartz is one among many, with many more to come. …

[2]
The Tragic Case of Aaron Swartz: Unequal Justice for Web Activists vs Health Care Corporate Executives [6]
The recent tragic case of the suicide of Aaron Swartz raises many issues, and has inspired an outpouring of news coverage and internet discussion.  Yet one issue it should raise that has not received much notice so far is that of how individuals and top executives are treated differently before the law.
Summary of the Case
Aaron Swartz was a prodigy who developed the RSS system for disseminating updates on web-site contents, and who helped develop the Reddit web-site.  He was an advocate for information freedom, and more broadly, according to [7] Matt Stoller, "a political activist interested in health care, financial corruption, and the drug war."  Furthermore, he "recognized that politics is a corrupt money driven system, but also that it could be cracked if you spent the time to understand the moving parts."

[6]
Anonymous Will Defend Swartz's Funeral from Westboro Baptists
The hackers launch #OpAngel to protect the activist's funeral and then push for an end to DoJ persecution.
By Sheila Dean [9] (about the author) [9]
OpEdNews Op Eds
By Stephen Lendman [11] (about the author) [11]
OpEdNews Op Eds