The Moon Theater Company's Community Christmas at the United Methodist Church was a delightful hour and half of Christmas songs and stories. This was the first such event, hopefully it won't be the last. If you missed it, plan on seeing it next year. It's free and its fun.
(Click on photos for larger image)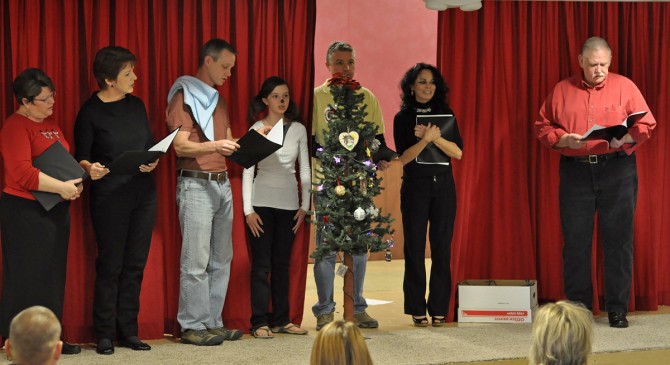 The first offering was " A Charlie Brown Christmas." The Peanut's characters were a delight as Charlie Brown (Gary Maggi) looked for the true meaning of Christmas among the avaricious attitudes of his friends. Of course, Lucy (Kathleen Gruman) offered her advice, for a price.
With help from Linus (Steve Byers) and little sister Sally (Pam Strahan) Emma Maggi-Byers and Lesley Jones, the poor little Charlie Brown tree was transformed in to a thing of beauty. Linus read a passage from the bible about the birth of baby Jesus and Charlie Brown was content. Narration by Don Kraus, far right.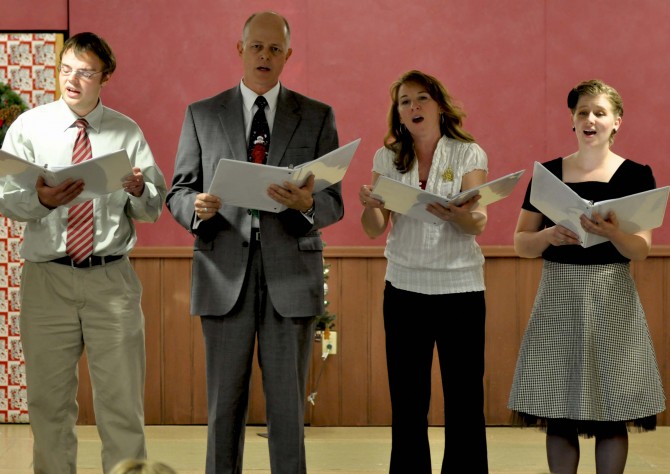 Next in the program was a quartet singing "Baby, Whatcha Going to Be?" From left to right: Brad Redford, Rex Eland, Memorie Conder and Summer Eland.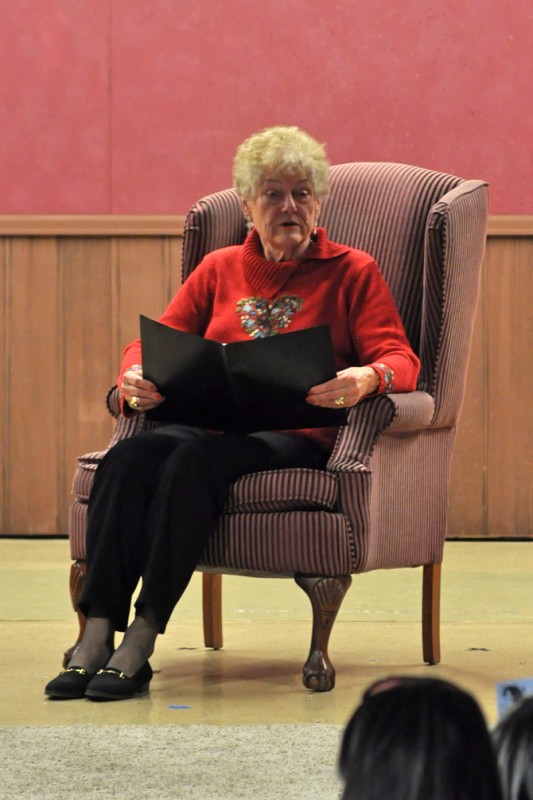 After a pleasant dance number by members of the Berthoud Dance Company, Marian Bennet did a reading of "Angel, in Red Velvet," the story of a little girl who has leukemia and loves the color red. The sickly girl rejoices in the red velvet dress her schoolteacher anonymously gave her for Christmas, but the sickness takes her life shortly after the children return to school from Christmas break.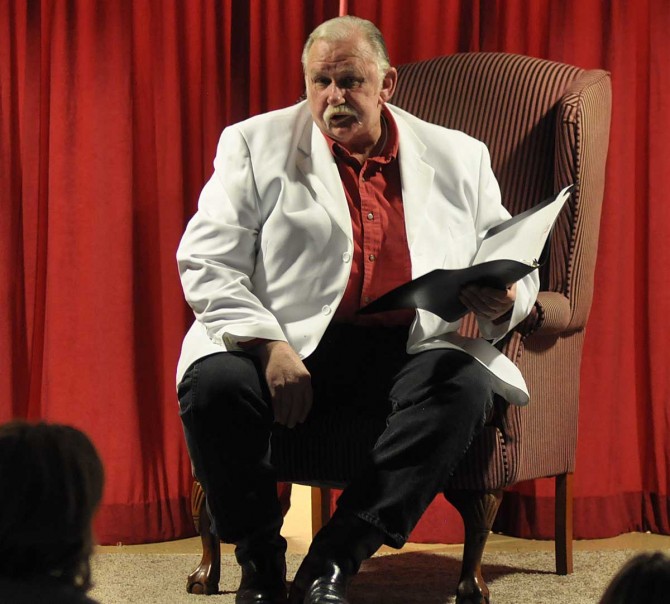 Don Kraus read a Charles Dickens short story, "The Christmas Goblins." Tis the story of Gabriel Grubb, a surly gravedigger who, on Christmas Eve, had a grave to finish and worked late in the churchyard. In this tale, it is the Goblins of Christmas that lead him around in the night, leaving him an altered man.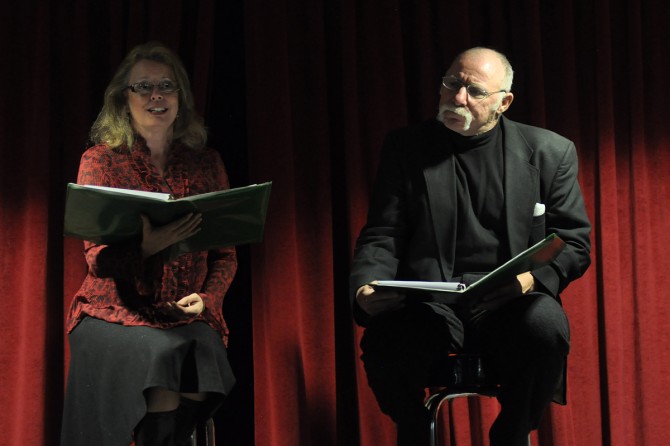 Gale Magaha-Miller and Paul Jones presented the Christmas Classic, O. Henry's "Gift of the Magi."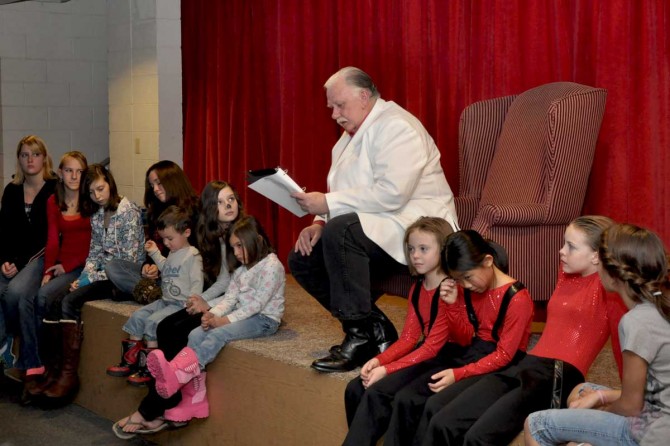 Don Kraus took the stage again and called all the children in the audience to join him as he recited "A Visit From St. Nicholas," also known as "Twas the Night Before Christmas," the Clement Moore classic that changed our image of Santa Clause.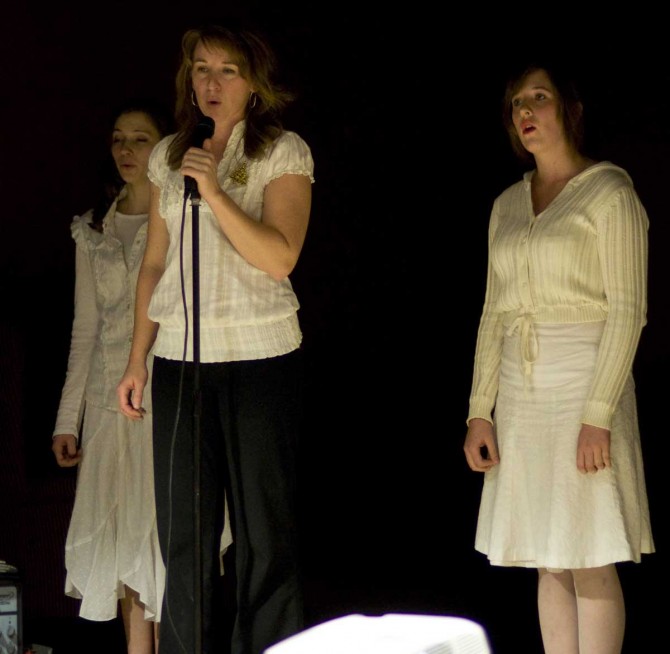 Memorie, Regan and Hailey Conder, sang the Amy Grant song "Breath of Heaven."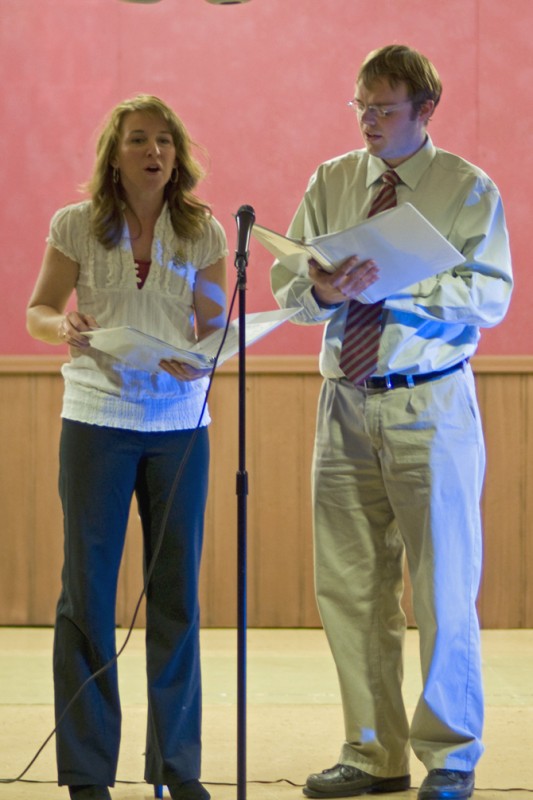 Memorie Conder and Brad Redford, sang "Peace, Peace, Peace" and then were joined by the cast and the audience in singing the final number "Silent Night."
Refreshment were served after the curtain went down and everyone seemed to have enjoyed the show.
The Moon Theater Company is presently in rehearsal for "the Odd Couple."  The show will be at the Rialto Theater in Loveland on January 14, 15, 16, 21, 22 & 23. Ticket sales at the Rialto Box Office or online at www.cityofloveland.com/rialto

Print This Post