West Nile virus cases necessitate emergency spraying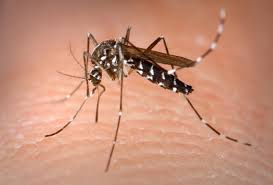 Reports of two additional human cases of illness in Loveland caused by mosquito-borne West Nile virus have triggered emergency spraying in the City beginning Thursday, Aug. 8.
Because one of the people infected by the virus lives near Benson Sculpture Garden, site of the heavily attended Sculpture in the Park Show and Sale underway Saturday and Sunday, spraying in that area will occur Thursday night after 10 p.m.
That spray application, also covering North Lake Park, site of the Loveland Sculpture Invitational Show and Sale scheduled Friday through Sunday, will be narrowly focused on areas where people will congregate for the shows.
Thereafter, as many as nine trucks operated by the city's contracted pest control service, Colorado Mosquito Control Inc., will dispense fog throughout Loveland on Sunday, Aug. 11, and Wednesday, Aug. 14, between 8 p.m. and 1 a.m.
Larimer County lands adjacent to the city will be covered at the same times to maximize the effectiveness of the spraying applications.
Because of the elevated risk and a steep rise in mosquito counts, trucks will not turn off foggers at addresses where residents have requested shut-offs. However, shut-offs will be honored for residents listed on the Colorado Department of Agriculture's Pesticide Sensitivity Registry.
Residents who have specifically requested to be notified of spraying operations will be called Friday, Aug. 9, more than 48 hours in advance of the city-wide spraying program.
Detailed information about Colorado Mosquito Control's operations, and the pesticides the company uses, is available atwww.comosquitocontrol.com or by calling 970-962-2583.
The Larimer County Health Department maintains an Internet site with information about West Nile virus, its prevention and the illnesses it causes at www.Larimer.org/health/cd/westnile.cfm.
So far this year, nine of Colorado's 10 reported West Nile cases are in Larimer County.

Print This Post