By Shari Phiel
Berthoud Recorder
Even though Ashlyn Bishop did not place in the 2009 Mrs. Colorado pageant, she says she is still very glad she competed in the event. Bishop represented Berthoud in the May 16 event held at the Ellie Caulkins Opera House in downtown Denver, which featured 46 competitors from around the state.
"I have never competed in a pageant such as this before," said Bishop. "I was surprised mostly by the women that I met. These are women that have the most inspirational stories and beautiful spirits. It was a blessing to get to know them."
The competition was held over three days and included interviews, hours of practice and semi-final elimination rounds. What was the most difficult part for Bishop? "Learning to walk in four-inch heels!" she said. As someone who doesn't regularly wear heels, she said it was definitely a challenge and not at all comfortable.
Regardless of the outcome, Bishop genuinely appreciated the support she received from the community and thanks everyone for their support.
"I was surprised and deeply touched by both the financial support and kind sentiments I received prior to the pageant. I could not have asked for a better community to serve, and I hope to represent you all again in 2010."
The winner of the Mrs. Colorado title — Megan Yarberry — will go on to compete in the Mrs. America Pageant, a beauty pageant for married women, to be held later this year. Yarberry was the first runner-up in the 2008 Mrs. Colorado pageant.
Category:
News – Community
News Image: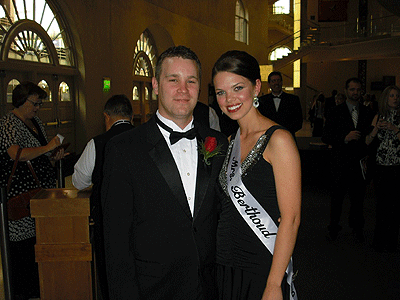 Long Description:
<p>Mrs. Berthoud, Ashlyn Bishop, and husband Luke Bishop.</p>
Category Lead:
Category Primary Featured Story
Home Lead:
Home Page Secondary Featured Story

Print This Post