By Taylor Lee
Berthoud Recorder
As the posters hung on the walls, and their faces were spotted in the hall, the students of Berthoud High School began to fill the halls with whispers of who they thought should take the title of Mr. Spartan for 2009.
For those unfamiliar with the Mr. Spartan title, ask almost any high school student and they would surely tell you it is an epic event in which junior and senior boys may compete. Mr. Spartan is Berthoud High School's version of a male beauty pageant. Each participant competes in six categories, including eveningwear, video biographies, swimwear, talent, interview and a segment called Mr. Handyman.
Mr. Handyman is the part of the competition where contestants are given miscellaneous supplies and are asked to build an object that complies with the topic given — they have three minutes to construct whatever they can think of.
The night started with the young men strutting their stuff down the aisles of the auditorium in their eveningwear. Pat "Bees" Conrey chose his own choice of a nice shirt, skate shoes and dress pants, while the other competitors sported tuxedos, some kindly sponsored and donated for the night by Al's Formal Wear at Centerra. From the start of the video biographies until the end of Mr. Handyman, the laughs never stopped, except for when Greg "G-Money-Mo" Morrell recited two poems for the talent competition, one of which he dedicated to Kim Skoric, a teacher at BHS. It was a touching moment amidst the hilarity.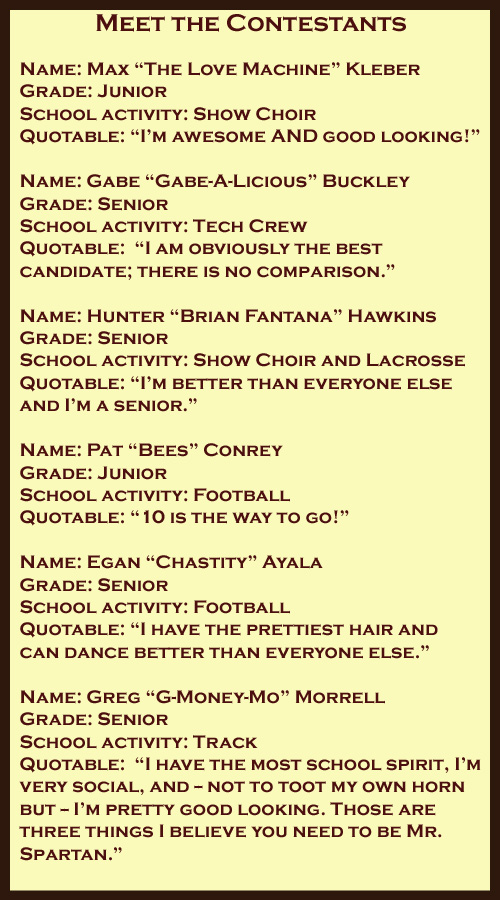 For the swimsuit competition, Egan "Chastity" Ayala caught the eyes of everyone in the room, sporting a coconut bra, a grass hula skirt and a wig, competing in character. Max "The Love Machine" Kleber wore swim trunks, a sleeveless shirt with muscles on it, white socks and sandals. Hunter "Brian Fantana" Hawkins and Morrell were brave enough to sport spandex Speedos, while Conrey chose a Hawaiian shirt and swim trunks. A more modest Gabe "Gabe-A-Licious" Buckley wore his signature plaid pants, a t-shirt and a pair of scuba goggles.
There was a surprising array of creativity during the talent part of the competition: Ayala danced as Chastity while sporting a female's outfit; Morrell recited poetry; Kleber parodied Justin Timberlake's "Sexy Back" with his own version: "Maxy Back;" Buckley presented a slideshow of "Photoshopped" pictures of teachers he created; Conrey wrestled a bear (classmate Joel Maly) out of Sparta, and Hawkins beat-boxed and sang with his a capella group, Priority Five.

Contestants were then interviewed and also competed for the Mr. Handyman title by making Mr. Sherman a retirement gift. When the final tallies were scored, Mr. Personality went to Gabe Buckley, Mr. Speedo went to Max Kleber, Mr. Hollywood went to Pat Conrey, Mr. GQ was awarded to Egan Ayala and Mr. Razzle-Dazzle was awarded to Hunter Hawkins.
The big winner for the evening was Greg Morrell, who was awarded with Mr. Handyman and the bragging rights of Mr. Spartan.
"I was really nervous before my talent and at the awards ceremony, but I was way excited that I won, and there was a lot of good competition," Morrell explained. "I had a lot of fun doing it though, and it was a good time."
News Image: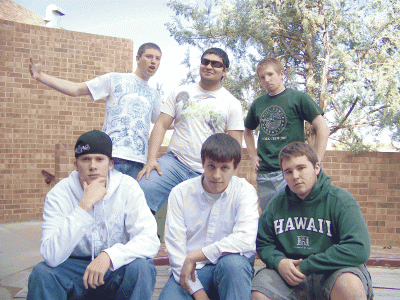 Long Description:
<p>Mr. Spartan contestants, back row from left, Pat Conrey, Egan Ayala and Hunter Hawkins; from left, Greg Morrell, Max Kleber and Gabe Buckley</p>
Home Lead:
Home Page Lead Story

Print This Post