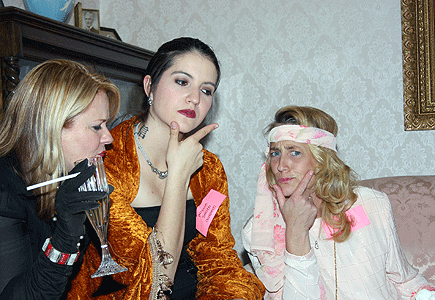 CoCo Chanel, aka Sara Wright, Bessie Smith (Elizabeth Pugh) and Isadora Duncan (Laura Hargett) ponder the clues in the murder mystery "Poetic Justice," a Berthoud by the Book event at the McCarty-Fickel Home last Friday. Who murdered H.G. Wells by covering the bathroom with bath oil so he would slip and hit his head, allowing the murderer to stuff a rubber duck down his throat? Which of the guests, time transported from the 1920s, could have done this? With 17 suspects to question, the investigation was not easy, but by the time the party ended, eight people correctly identified the murderer.
Photo by Gary Wamsley
Trustees Approve Revised Junk Vehicle Ordinance

By Sandy Barnes
The Berthoud Recorder
Junk vehicles parked along Town streets are the target of an ordinance the Board of Trustees approved at the Tuesday, May 12 meeting. "We're trying to deal with inoperable vehicles in public view," said Trustee Glen Buckingham.
Mayor Tom Patterson said that the ordinance is designed to address the most egregious cases. "The intent is not to run a junkyard in your front yard," he said.
Owners of vehicles in violation of the ordinance will be given 14 days notice to remove them. A health and safely provision also requires that inoperable vehicles be towed from premises to prevent owners from attempting to start them.
After hearing concerns from residents, the trustees amended the original ordinance presented by Town Attorney Bruce Fickel with a provision allowing inoperable vehicles to be kept in enclosed areas of back yards. The vehicles would need to be stored in sheds or behind a fence that is at least six feet high.
Resident Ryan Miera, who spoke at the public hearing on May 12, and at a previous one when the ordinance was initially considered, said he felt it appropriate to be able to keep junk vehicles if they were behind a fence.
During the public comment portion of the hearing on the ordinance, resident Lisa Bauer expressed a concern about noxious fumes being emitted from disabled vehicles that owners may try to start in order to move them. Bauer said the ordinance should address this issue to prevent poisonous gases from being released. "I have been harmed by noxious fumes," she said. Bauer explained that a neighbor with a diesel-powered vehicle had caused her family distress when running it because of the amount of carbon monoxide it emitted. She said the level of carbon monoxide was so high it triggered detectors in her home and made it necessary to keep windows shut in the summer time.
Fickel pointed out that pending state legislation requiring emissions inspections would address this issue. "The bottom line here is that junkers will have to be inspected," he said. Trustee John Bauer replied that even with a new emissions rule, older vehicles in violation of it would be permitted to operate after meeting certain requirements.
Trustee Jeff Hindman proposed the Town draft a separate noise and noxious fumes ordinance to be considered at a later time — a suggestion that other board members supported with a vote.
Category:
News – Community
Home Lead:
Home Page Lead Story

Print This Post