By Laurie Hindman
Berthoud Recorder
In some storage closet in Berthoud High School, overhead projectors are now gathering dust. With the opening of the two new science labs and a multi-purpose room, BHS science teachers are happily embracing the latest technology and powerful teaching tools: Smart Boards.
A Smart Board is a large, interactive white board that is linked to a projector and computer. Teachers can project images from papers or books and link lessons to the Internet, all of which can be projected on the white board.
Colby Schultz, BHS chemistry teacher, said what is unique about the BHS Smart Boards is that they are connected to a presentation tool called "Sympodium," a pen equipped computer monitor that allows you to write electronic notes on the computer screen with a stylus while facing your class.
To demonstrate, Schultz pulled up a periodic table from Google immediately displayed on the white board. With his stylus, Schultz circled an element and jotted down a formula. "I can use any application—Word, PowerPoint, Excel—and write on it or manipulate it," said Schultz. "Once drawn, I have the ability to record it and store it on a webpage. A student can then access the lesson from anywhere."
Not only can Schultz store the computer images, Sympodium can record entire lessons as a video, including images and lecture or discussions. "A student might be gone for an important class and can go online and see the whole lesson. Students can review lessons, study for tests—it's a neat, neat tool," said Schultz.
According to Schultz the students share his enthusiasm. "They love it," said Schultz. "The kids get excited to work problems on the screen. Our society is a global society and with a global classroom we are able to access information on whatever topic we want."
The new facilities will be used jointly with Aims Community College who helped fund and equip the science labs. Nathan Wright, Media Technician for Aims Community College builds the Smart Classrooms and provides training for the teachers. "The one big advantage is that is saves everything you write into a file and you can call it up again. Math teachers like it."
Even with the new technology, students will still be donning safety glasses and holding chemical filled test tubes over flames.
"Some things never change," concluded Schultz. "Kids always need hands on lab work. You can't pick up everything you need from lectures and computers."
News Image: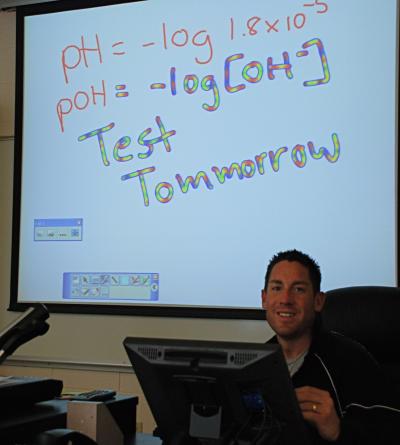 Long Description:
<p><span style="font-family: times new roman,times;"><span style="font-size: small;">BHS Chemistry teacher, Colby Schultz, demonstrates the new Smart Board.</span></span></p>
Category Lead:
Category Lead Story

Print This Post