By Sandy Barnes
Berthoud Recorder
After years of working in the utility department for the City of Fort Collins, Jim Hibbard said he is looking forward to working in a smaller organization as district manager for the Little Thompson Water District. "I like to be close to customers and employees," he said.

Hibbard officially began his new position at the water district office Monday, April 6. "The first couple of days have been exciting," he said. "There is an excellent staff here. My hope is to contribute to the success of the organization."

After an extended search for a new district manager, the Little Thompson Water District Board of Directors selected Hibbard, who has extensive experience with water treatment and distribution systems and a professional background in engineering.
Business Manager Judy Dahl has served the water district as interim manager since the departure of former District Manager Hank Whittet.
A native of central Illinois, Hibbard and his family have been in Colorado since 1973. He worked in Denver for a time before accepting work with the City of Fort Collins. Hibbard said the opportunity to work in the Little Thompson Water District intrigued him not only because of its smaller size but also because it appeared to be a progressive organization.

The Little Thompson Water District has 7,500 water taps that provide water to approximately 20,000 people in the area. Part of the Colorado-Big Thompson system, the water in the Little Thompson District is stored at Carter Lake and treated at a nearby filter plant.

Hibbard said that because of a reasonable amount of snow pack in the mountains at this time, he anticipates an ample supply of water for customers in the district. The drought of 2002 sensitized people to the problems associated with a scarcity of water, he said. "We have plenty of water to use, but none to waste."
News Image: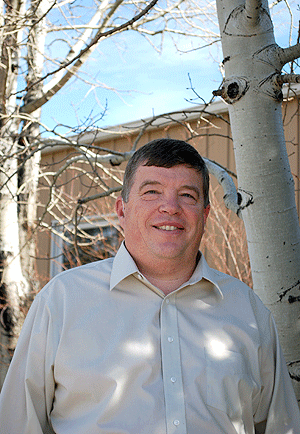 Long Description:
<p>Jim Hibbard</p>

Print This Post