By Taylor Lee
Berthoud Recorder
A tough end-of-the-season conference loss to the Northridge Grizzlies on Tuesday night leads the Berthoud Spartans' boys' basketball team into Thursday's start of the 4A Northern Conference tournament, and against a rematch, at that.
Northridge scored a 67-52 victory on the Spartans' home floor to close the regular season at 10-9, 9-7 in conference play. Berthoud, meanwhile, fell to 8-11, 8-8. The result leaves the teams seeded eighth and ninth and into a return encounter, this time at Northridge, in Thursday's first round of the league tournament.
The Spartans held their only lead at 15-13 in the first quarter, but Northridge was to quick pull ahead and stay there. Going into halftime, the Grizzlies held a 12-point lead, 33-21, on the heels of a 16-6 run in the second quarter. The Spartans rallied for 18 points in the third quarter, but only dented Northridge's lead to 11 by quarter's end.
Even though Berthoud started to make a late comeback in the fourth quarter it was not enough to pull out the win. Junior Shane Hart led the Spartans with 15 points. Teammate Joel Maly added 12. Ian Cervantes led the Grizzlies with 17 points. Taylor Guerrero added 13 points and Devon Satterwhite 11.
"For the league tournament we don't care who we play anymore," said senior Ryan Barron, who along with Jeff Shields scored 10 points each. "Anyone can play against anyone and win. We just know that we need to play our basketball to do well."
NORTHRIDGE 67, BERTHOUD 52
NORTHRIDGE 17-16-17-17–67
BERTHOUD 15-06-18-13–52
NORTHRIDGE: Ian Cervantes 6 5-7 17; Taylor Guerrero 3 6-8 13; Devon Satterwhite 5 1-1 11; Manuel Quinoes 3 2-2 8; Michael Tennison 3 2-4 8; Kris Lancaster 1 2-2 4; Connor Ervin 1 0-0 2; Jerry Hernandez 1 1-2 3; Matt Richie 0 1-2 1. TOTALS: 22 20-28 67.
BERTHOUD: Shane Hart 7 0-0 15; Joel Maly 5 2-3 12; Jeff Shields 3 4-4 10; Ryan Barron 4 0-0 10; Graham Shaw 1 1-2 3; Danny McGinn 0 2-2 2. TOTALS: 20 9-11 52.
3-POINTERS: Northridge 1 (Guerrero); Berthoud 3 (Barron 2; Hart)
FOULED OUT: Berthoud — Shaw
TECHNICAL FOULS: Berthoud — Coach Scheck
News Image: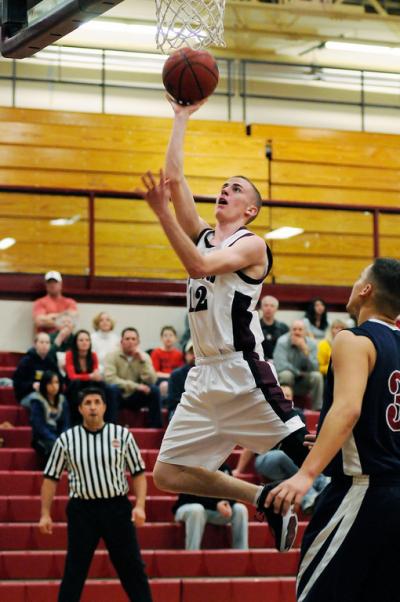 Long Description:
<p><span style="font-size: small;"><span style="font-family: times new roman,times;">Jeff Shields scored 10 points during Senior Night on Tuesday at Berthoud High School, but the Spartans dropped a 67-52 decision to Northridge. The two teams will meet again Thursday in the first round of the 4A Northern Conference boys' basketball tournament.</span></span></p>
Category Lead:
Category Primary Featured Story

Print This Post