Manti Te'o's soap opera moves the school's athletic director to tears, while Lizzy Seeberg's suicide is ignored.
By Irin Carmon
January 19, 2013  |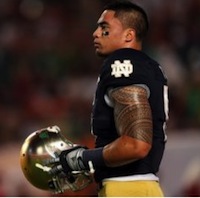 Less than a day into the Manti Te'o revelations, we've heard more about a fake dead girlfriend of a Notre Dame football player than a real dead girl. Lizzy Seeberg committed suicide, not long after being intimidated by Notre Dame football players for reporting a sexual assault by one of their teammates. A second woman who was taken to the hospital for a rape exam declined to formally accuse another Notre Dame football player after getting a series of bullying texts from players.
The handful of people who  immediately took note of the contrast in the attention — both by the press and by the university — are absolutely right to be angry. But no one should be surprised.
We don't know everything about the Te'o saga yet, but there is probably only one fake dead girlfriend mythologized by the sports media, the existence of "Catfish"-ing as a verb notwithstanding. Whereas there are legions of stories of sexual violence against women and men by star athletes and staff, who can reliably count on the impunity offered by fandom. Confronting the former is a little embarrassing: The public equivalent of loving too much, the allure of a heartwarming story everyone wanted to believe. Confronting the latter requires uglier, more difficult self-examination, and accepting collective responsibility costs more.
It matters, too, how we can talk about each story. Some Manti Te'o Twitter jokes were instant classics; no one decent can make jokes about a girl who killed herself after being told, "Don't do anything you would regret," and "Messing with Notre Dame football is a bad idea," according to Melinda Henneberger's  reporting. Henneberger, a Notre Dame alum, wrote in the Washington Post in early December that she won't be cheering for the team. "As a thought exercise, how many predators would have to be on the team before you'd no longer feel like cheering?" she wrote. (She also said, "There are plenty of good guys on the team, too, I'm repeatedly told, And oh, that  Manti Te'o is inspiring. I don't doubt it." Very few did.) It's easier to just change the subject and not think about whether there is something endemic to football culture that enables sexual entitlement with the reasonable assumption of getting away with it.
We all have heard by now how denial and institutional culture contributed to Jerry Sandusky's ability to continue assaulting young boys for years, under cover of the Penn State football program. But once that was exposed, it was rightly considered an unambiguous evil. But the sexual assault of women can and is often explained away —


Print This Post