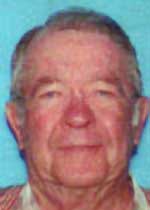 Raleigh Nathaniel Alford, Jr. 77, died Feb. 9, 2011, in Berthoud, Colo.
Raleigh was born Sept. 24, 1933, in Montrose to Henry and Opal (Marshall) Burrows. Raleigh graduated from Montrose High School in 1951.He then graduated from Colorado State University where he earned his degree. He proudly served our country in the U.S. Army.
Raleigh was a banker in Berthoud for 35 years. Raleigh married Jeannie Anderson and had two children. Jeannie preceded Raleigh in death. Raleigh later married Beverly Yarberry, Feb. 14, 1992.
He was also very active in the Elks Club, Lions Club, Masons and was the president of the Rotary Club. Raleigh had a strong love for animals; he was an avid reader, reading up to five novels a week. He also enjoyed dancing and loved to laugh.
Raleigh is survived by his loving wife, Beverly Alford of Berthoud, Colo.; son, Burke Alford of Phoenix, Ariz.; daughter, Nicole Millon of Omaha, Neb.; and five grandchildren.
He was preceded in death by his parents.
A private memorial services was held in Loveland.
Please send condolences to alford.beverly@yahoo.com.

Print This Post