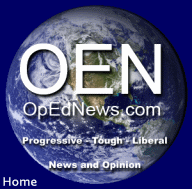 [1]
OpEdNews [2]
Bold and Daring: The Way Progressive News Should Be
  Daily Headlines
 Latest Articles
Banker Occupation and Europain [31]
Bankers rule the world. A new Swiss Federal Institute of Technology study says so. Written by Stefania Vitali, James Glattfelder and Stefano Battiston, it's titled "The network of global corporate control."
XL Keystone – The Pig in the Pipeline – The GOP is pushing a pipeline that could blow you to pieces [32]
Whistleblowers have told Britain's "Dispatches" that the safety software on major US pipelines contains deliberate errors–and so pipelines can — and have — busted, leaked, exploded …and killed.
Friend of the Devil-A Rock and Roll Epistle [33]
There can be no doubt that America is going to Hell in a hand basket. I would rather be a Friend of the Devil than any of those sanctimonious bastards in the GOP who have done nothing while one third of our nation has fallen into poverty, myself included.
What's alarming is the ease with which an otherwise deadlocked Congress that can't manage minimal funding for job creation and unemployment relief can find the money to fund at Cold War levels a massive sophisticated arsenal to defeat an enemy that no longer exists.
 Best News Links from the Web
Syrian National Council, Syria's rebel government, opens offices in Turkey – Tuysuz [35]
At the new offices of the Syrian National Council, a self-styled transitional government-in-exile that unites leftists, Islamists and members of other factions among the Syrian opposition, boxes of supplies still need to be unpacked and the smell of new office furniture lingers. It is from these offices, inside a building more accustomed to hosting import/export businesses, where representatives of the popular uprising in Syria plan to work toward greater legitimacy and international recognition.
Trial announced for Swiss nuclear smugglers said to be CIA agents – Fitsanakis [39]
Switzerland has officially charged three Swiss citizens with assisting the nuclear smuggling network of Abdul Qadeer Khan, the father of Pakistan's nuclear program, who gave nuclear information to North Korea, Libya and Iran. But the scope of the trial will be severely limited under a peculiar plea bargain struck with the three defendants, which will prevent the court from examining their claims of having worked as agents of the United States Central Intelligence Agency.
Three-Quarters Of Americans – Indy, Dem, & GOP – Think The 1 % Has Too Much Power [42]
Since the 99 Percent Movement protests began across the country, multiple Republican lawmakers and strategists have announced their fear of what they claim are the movement's attacks on capitalism and America's free market economy. The protests and Democratic policies, some Republicans have claimed, represent a form of class warfare against the rich. And many have predicted that supporting the movement will come back to haunt Democrats. But a new poll from the Pew Research Center found that when asked directly about the belief that sparked the 99 Percent Movement — that the rich have too much power and influence in this country — Americans of all political stripes largely agree. Wide majorities of Democrats, independents, and even Republicans, in fact, think the rich are too powerful, and a majority also thinks our economic system unfairly favors the wealthy…
---
Copyright © OpEdNews 2011