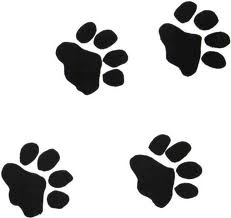 The Berthoud Community Library is proud to host the Paws to Read program. On the fourth Monday of every month Paws for Responsibility provides two screened, trained and registered therapy dogs and their volunteer handlers for this special reading program. With these furry friends to listen and encourage young students, reading becomes a privilege rather than a chore!  The Berthoud Community library has held two successful sessions with several repeat participants.
This past Monday, February 27, the children met Joan Harrold and her dog Wylie and Pat Maynard with Tillie.  Children from grades 1-5 were represented including; Kvontay Dursharm, Caleb and Abigail Cunningham, Nolan Simon, Grace Meeker, Lindsay Burkhalter, Kelsey and Riley Witting.  The dogs got to hear all kinds of tales from Monster High by Lisi Harrison to Dr. Seuss to Hank the Cowdog by John R. Erickson.
The next Paws to Read will be held on March 26 at 6:30 pm.  Call the Berthoud Community Library at 970-532-2757 or come in to reserve your spot
!

Print This Post