By Shari Phiel
Berthoud Recorder
It would seem that Phase II of the Mountain Avenue construction project is running along far more smoothly than the first phase.
According to Town Engineer Stephanie Brothers, "It's almost done." Brothers noted crews will likely wrap up the project by the end of next week.
While Sixth Street between Mountain Avenue and the Berthoud Pool may not look close to completion, with heavy equipment on site and the roadway still to be completed, Brothers said, "They're going to try to finish paving next week."
Phase II of the Mountain Avenue Project, which began in early May, was delayed from its earlier expected start date at the beginning of 2009 when the area where the storm water main was to be placed had to be resurveyed because of added inlets.
Following an open bid process, the contract for the Phase II project was awarded to Schmidt Earth Builders of Windsor at an April 7 board of trustees meeting. Schmidt Earth Builders worked on two previous town projects and had received good performance ratings.
The Phase II project called for the placement of a 42-inch storm water main along Sixth Street and had an original estimated cost of $400,000, although the Town did budget $450,000 for the project.
A subsequent change order submitted by Brothers to the trustees on June 9, which was approved by the board, to replacement the pavement on Seventh Street from Berthoud Town Park to Welch Avenue likely added some costs to the project, but it's still expected to come in under budget.
Next up for Town staff will be the roundabout project at the intersection of Mountain Avenue and First Street. While a start date has not been named, the Town has requested proposals from the Colorado Department of Transportation's pre-qualified list of consultants for complete cost of services. A mandatory pre-proposal conference is scheduled for today at Town hall at 2 p.m.
News Image: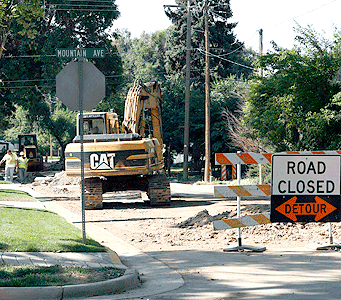 Long Description:
<p>Construction crews are nearly finished with Phase II of the Mountain Avenue project.</p>
Category Lead:
Category Secondary Featured Story
Home Lead:
Home Page Lead Story

Print This Post