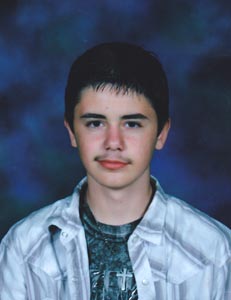 [1]Philo Grommon, a freshman of Johnstown Colorado became victim of a violent physical assault that would forever change his life and lives' of those that love him dearly. On December 1st 2010, Philo was unexpectedly attacked by another student while attending his local high school. During the attack he endured a severe blow to the head causing a traumatic brain injury. Stripped of what was once a normal teenage life, he now suffers from a neurological motor tic disorder, severe memory loss, chronic migraine headaches, speech impediment and double vision. Due to the loss of memory he must learn to read and write again and is no longer able to attend school as a result. Life for Philo today consists of Physical, Occupational, Vision and Speech Therapy.
As anyone might imagine, this has taken a serious toll on both him and his family because of the immense medical bills that continue to grow daily. As a result, they are struggling to meet their financial responsibilities. If this isn't challenging enough, Leighsa Grommon (mother) was forced to quit her full time job in order to provide her son with the care he needs and deserves. The Grommon's are one of the most generous, kind-hearted families and are certainly deserving of our support, as they have done so much for our community.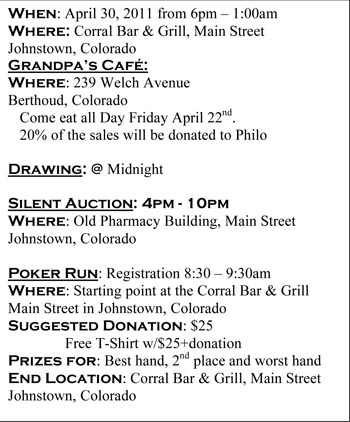 [2]On April 30 2011, a benefit will be held for Philo. This benefit will help support the Grommon family through these difficult times. The money raised will go to the family's medical bills and daily expenses. A silent auction and poker run will be held as well as a drawing. However, in order to make this event successful we need your support. If you could, we ask for your assistance in contributing to this event either in the form of money or through a donated item that could be auctioned off.
If you are willing to donate to this cause, please contact:
Event Coordinators: Karen Slaymaker @ 970-587-9993 Monica Eaton @ 970-590-3709 Danielle North @ 970-744-4903 We are hoping to have all donations collected by 4/25/2011.
Cash donations can be made at: Colorado Community Bank of Johnstown 10 Angove Ave Johnstown 587-2160.