By Kyle Lee
Berthoud Recorder
"Cloudy" is the first of two movies coming out this year based on books that really formed my childhood. Unsure of how they would stretch the cautionary tale into a feature, I was afraid it would be like "Monsters vs. Aliens" — a cute idea that relied on lazy pop culture jokes to keep it going.
Well, quite unlike "MVA," "Cloudy" doesn't really even touch the crutch that "Shrek" created years ago. It relies on fun, witty writing, a great cast and the plot to be comedic. It's a breath of fresh air to look at this movie and see not only original character designs that don't borrow too much from the Pixar troth but also fleshed-out human characters that have hopes, dreams and emotions outside of the recognizable lineup the aforementioned has created.

This movie made me laugh wholeheartedly, showing off better comedic timing than most live-action movies have. Mr. T takes the role as the local cop and for once, the artists working with him don't force a "pity" joke from him or load his character up with gold jewelry. He creates something entirely different from his past while using his fantastic voice to cook up some great laughs.

But my biggest fear was that this movie would not hold on to the message that the book maintained even though they were adding a lot to the proceedings. And thankfully they do. They even poke a little fun at disaster movies without being too obvious. I was laughing during this movie from the opening credits and I think that if you parents out there have little ones begging to see this, you won't be bored at all sitting through this one.

"Cloudy" is a genuine surprise that had me ready to watch it again. If you can see it in 3-D it's totally recommended.
---
"Cloudy With a Chance of Meatballs"
Director: Phil Lord and Chris Miller
Cast: Bill Hader, Anna Faris, Bruce Campbell and Neil Patrick Harris
Runtime: 1 hour, 30 minutes
MPAA rating: PG
Reviewer rating: 5 out of 5 stars
Category:
Variety – Price of Admission
News Image: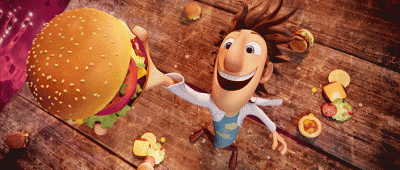 Category Lead:
Category Lead Story
Home Lead:
Home Page Primary Featured Story

Print This Post