By Kyle Lee
Berthoud Recorder
Over the past decade, the world has been taught that a sci-fi movie meant an audience would be dazzled by incredible special effects but not the script. For the most part, these movies were just giant set pieces with just enough dialogue to justify them happening. But in the 1970s and '80s, sci-fi movies challenged the viewer. It was human drama that just so happened to be set in the future or what have you.
In his debut feature, Duncan Jones crafts a story based on his own concept that takes us to the glory days of great science fiction. The isolation that he creates for Sam Bell (Sam Rockwell, Choke) is so real, so genuine, you feel like you've been up on the Moon with Sam for three years as well. Sam's relationship with his robot GERTY, voiced by Kevin Spacey (The Usual Suspects, 1995) is touching, bringing about a connection that two actors in the same room often can't achieve.
Rockwell outdoes himself in this picture. A consistently great actor, he has brought together a multi-layered performance, the likes of which are increasingly rare to find.
It's worth the price — I would go see "Moon" again and later buy it on DVD.
Kyle Lee is an unabashed nerd who has loved movies for a very long time.
---
"Moon"
Director: Duncan Jones
Cast: Sam Rockwell and Kevin Spacey
Runtime: 1 hour, 37 minutes
MPAA rating: R
Reviewer rating: 5 out of 5 stars
Now playing at the Lyric Cinema Café, 300 E. Mountain Ave., Fort Collins
www.LyricCinemaCafe.com
Category:
Variety – Price of Admission
News Image: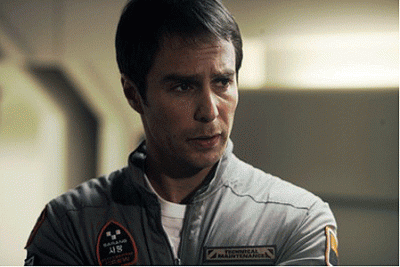 Category Lead:
Category Lead Story
Home Lead:
Home Page Primary Featured Story

Print This Post