By Kyle Lee
Berthoud Recorder
In my time as a reviewer I have seen many good movies … and one pretty bad one. But the connecting strain through all of them was they were not really kids' movies. "Harry Potter" might have been PG, but it was much more intense than its rating let on.
So it was with great pleasure that I had the chance to see the newest film from legendary director Hayao Miyazaki. Miyazaki directed Oscar winner "Spirited Away," considered one of the best animated films of all time, so I was very excited about his first feature since "Howl's Moving Castle" came out in 2004.

Think back to the last traditional 2-D animated movie you saw in theaters. Been a while hasn't it? I have missed traditional animation, so I hope this ushers in the return of 2-D to theaters. Why? "Ponyo" is the most beautiful movie I have ever seen. A lot of time is spent building up the connection with the ocean, but with a title character that is part fish, it's not hard to see why. All of the animation looks incredible.

I won't go too into detail with what the plot is because the real fun of "Ponyo" is going in with an open mind and open heart, ready to appreciate what the story has to give. In my experience with animated movies, a talented voice actor can make or break a movie, especially when celebrities are involved, as is often the case in Miyazaki's movies. Tina Fey really fell into her character to the point that I couldn't even tell it was her. While not as great or deep as his other work, Miyazaki does come back to show everyone how to make a great animation.
"Ponyo" is a fantastic movie that deserves a large audience and will be a standard in my family unit.
---
"Ponyo"
Director: Hayao Miyazaki
Cast: Liam Neeson, Tina Fey, Cate Blanchett, and Matt Damon
Runtime: 1 hour, 40 minutes
MPAA rating: G
Reviewer rating: 4 out of 5 stars
---
Kyle Lee is an unabashed nerd who has loved movies for a very long time.
Category:
Variety – Price of Admission
News Image: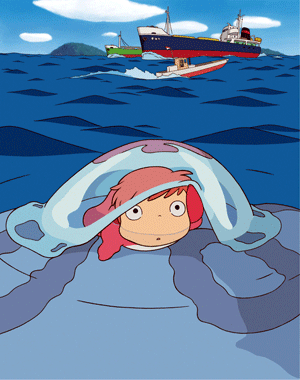 Category Lead:
Category Lead Story
Home Lead:
Home Page Primary Featured Story

Print This Post