By Dani White
Berthoud Recorder
Almost exactly 40 years to the day, an epic event in the history of rock and roll was brewing in a small town in upstate New York. This event required a 600-acre farm as the venue site, the creative, freethinking mindset of the 1960s counterculture generation, and a three-day lineup of explosive musical talent, emblematic of the era. The event unexpectedly drew a colorful multitude of 500,000 people. The event was Woodstock. The concert was originally billed as "An Aquarian Exposition: 3 Days of Peace and Music." Woodstock lived up to its title and proved to be a generation-defining events in our country's history.
The release of "Taking Woodstock" jogs our memory about the significance of three days of peace and music. The film looks at the experience through the unique perspective of Elliot Tiber (Demetri Martin), a local of Bethel where the concert was held. Tiber was partially responsible for providing the event's location. It is interesting seeing the crest of emotions from all sides as the exposition begins to manifest. Actual accounts of Tiber and other founders of Woodstock inspire the story behind "Taking Woodstock."
Elliot single-handedly tries to save his parents' run-down motel business from foreclosure. The story is an earnest glimpse into coming of age in a time when progressive ideals and humanitarianism were the trend of thought. "Taking Woodstock" offers a unique landscape for those who did and did not experience the event. It reminds the audience not only of the significance of what Woodstock was all about but also why and how it happened in the first place.
A handful of very well-done sequences of "Taking Woodstock" look like the actual footage of the event. This part of the film is like watching a memory. The origin of Woodstock is meaningful, no matter how tumultuous or impulsive because of its core purpose. "Taking Woodstock" evokes the extraordinary sensation of being a part of the recollection of one of the greatest experiences in the past four decades. This fun and quirky retrospective film is a "far-out" blast from the past, worth a few bucks to experience.
---
"Taking Woodstock"
Directed by: Ang Lee
Starring: Demetri Martin, Emile Hirsch, Liev Schreiber, Imelda Staunton and Eugene Levy
Runtime: 1 hour, 50 minutes
MPAA rating: PG-13
Reviewer rating: 3 out of 5 stars
Category:
Variety – Price of Admission
News Image: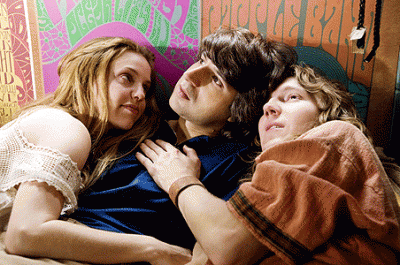 Long Description:
<p><span style="font-size: small;"><span style="font-family: arial,helvetica,sans-serif;">Main character Elliot Tiber (Demetri Martin, center), &ldquo;takes&rdquo; Woodstock and psychedelic substances when he meets new friends at the festival.&nbsp; </span></span></p>
Category Lead:
Category Lead Story

Print This Post