By Dani White
Berthoud Recorder
"The Proposal" is what ensues when a high-powered, high-strung, high-maintenance NYC book editor named Margaret, played by Sandra Bullock, is threatened with legal ramifications of a long expired visa. An unrelenting Margaret faces losing her position and imminent deportation to her native Canada. Luckily enough, she has a somehow-loyal assistant, Andrew (Ryan Reynolds), who has suffered years of servitude and just so happens to be exceedingly attractive, charming, funny and American. Andrew inadvertently finds himself as Margaret's new fiancé. The two strike up a deal, which is one part bargain, one part blackmail.
The couple is forced, upon risk of felony and deportation, to get to know each other outside the office. What better way than to meet the family! Since Margaret has none, they venture to Andrew's hometown in scenic, middle-of-nowhere Alaska. For the sake of their careers, a feigned engagement plan is launched and set into motion to deceive family, friends, co-workers and a particularly suspicious immigration official.
Out of the abysmally-degrading position of minion, our charismatic, wise-cracking leading man rises to the occasion and uses his new-found leverage and fully-developed sense of humor to do what any disgruntled assistant would love to do: bring his tyrannical boss down a rung. There is a certain comedy watching the wicked uber-boss of the east negotiate rugged Alaskan terrain and various situations that take her way outside her comfort zone. An entertaining power-shift, a slew of embarrassing incidents and a war of wits carried out with comic precision secure our attention. Although the whole ordeal is a sham, the tone is surprisingly real.
Despite being adeptly formulaic, the film is comic and quirky, mainly due to the unique dynamism of Bullock and Reynolds. I'm still not certain what demographic "The Proposal" is targeting, but it seems to appeal to a theater-full variety of filmgoers. For all intents and purposes I would say this is a wholly suitable "date" flick. Overall, "The Proposal" is more amusing and applicable than anticipated. This loathing-to-loving comedy is worth seeing, but I recommend having your date pay for the movie.
---
"The Proposal"
Directed by: Anne Fletcher
Cast: Sandra Bullock, Ryan Reynolds, Mary Steenburgen, Craig T. Nelson, Betty White and Malin Akerman
Runtime: 107 min.
MPAA rating: PG-13
Reviewer rating: 2.5 out of 5 stars
Category:
Variety – Price of Admission
News Image: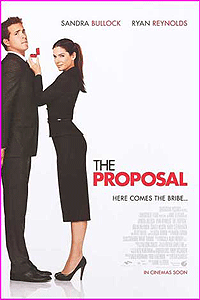 Category Lead:
Category Lead Story
Home Lead:
Home Page Primary Featured Story

Print This Post