By Michael Hicks
DENVER — Alex Sadlo, nearly pinned in the first period, overcame an early 5-0 deficit to pin Fort Lupton's Matt Omelas in the second period of Friday's 4A state wrestling quarterfinals at the Pepsi Center to advance to tonight's state semifinals at 135 pounds.
Fate wasn't so much on the side of his Berthoud teammates. Robbie Workman, at 130 pounds, battled back from being down 7-3 in the third period to force overtime but lost to Wheat Ridge's Nick Swanson 9-7 in the extra period. It's the second straight year that Workman has lost to Swanson at the state tournament. Swanson beat Workman in the consolation draw last year.
Marcus Lucero dropped a 13-4 major decision to Alamosa's Dakoda Curtis at 140 pounds, 189-pounder Casey Couch nearly upset undefeated Jordan Passehl of Montrose before suffering a late 7-3 loss and 215-pounder J.T. Pickert lost a 7-1 decision to Braxten Franz.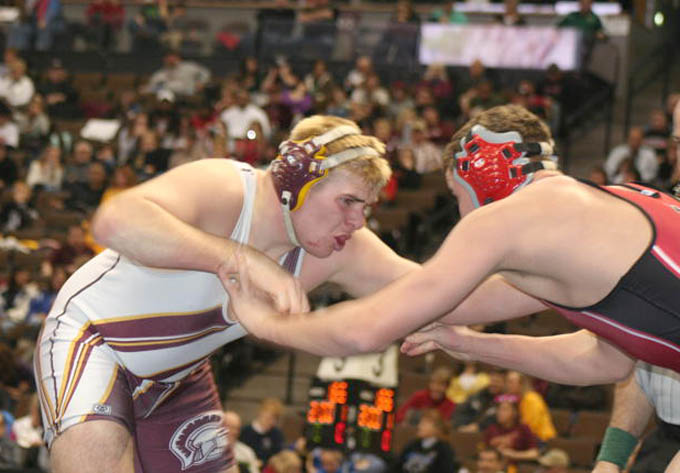 All four Spartans who lost in the quarterfinals will wrestle in the second round of consolations later Friday.
Photos by Michael Hicks

Print This Post