The Thompson School District Junior ROTC cadets and BHS Athletic Director Mark Avery are on a mission to raise $3,000 for a flag pole at Max Marr Field.
They are asking area businesses and individuals to contribute what they can to install a new 35-foot pole, a memorial plaque and flag in time for the season's last football game, scheduled for Friday, Nov. 6.
They are dedicating the flagpole to the memory of Staff Sgt. Justin Bauer, who was killed Jan. 10 while serving in Iraq.
To donate money, goods or services, contact Mark Avery at 970-613-7700 or mail to the Justin Bauer Memorial Flagpole Project, c/o BHS Athletic Dept., 850 Spartan Ave., Berthoud. CO 80513

News Image: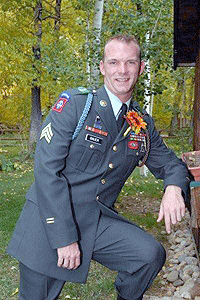 Category Lead:
Category Secondary Featured Story