By Shari Phiel
Berthoud Recorder
This week marks the start of the 130th Larimer County Fair and Rodeo. Not only does the fair bring horses, dogs, a carnival and rodeo riders, it also brings some much needed revenue to the county.
Last year, about 40,000 visitors attended the fair paying for tickets for special events and generating sales tax revenue. Yet both the fair and the fairgrounds continue to lose money.
A report issued by the Larimer County Board of Commissioners in Oct. 2008 states, "The County Fair and 4-H Building continue to [lose] approximately $600,000 per year."
With the continuing economic downturn, officials at The Ranch are now facing an estimated revenue shortfall of more than $750,000, leaving managers struggling to cut costs and find new revenue sources.
Director Bob Herrfeldt is working on cutting the complex's expenses by trimming 10 percent from The Ranch's $6.5 million budget along with reprioritizing spending. Herrfeldt also stated to Larimer County Commissioners earlier in July that he would not be filling two full-time positions currently open.
Suggestions for increasing revenues include increasing parking and facility fees on tickets for sporting events and concerts. By raising facility fees from $1 to $2.50 and parking fees from $2 to $3, The Ranch could add close to $700,000 to its revenue.
In the 2008 report, a proposed $50 utility fee per event, which would bring in $60,000, was also suggested to offset rising utility costs.
Other proposals include raising rental rates, offering package rates and expanding the number of events that use catering, even a suggestion to add a $2 admission fee for fair entrance.
For now though, admission into the Larimer County Fair and Rodeo remains free as do most of the events. Although special attractions like the Bill Hames Carnival and the Gnarly Barley Brew Festival do carry extra costs, it's still one of the best entertainment values for the whole family to be found.
News Image: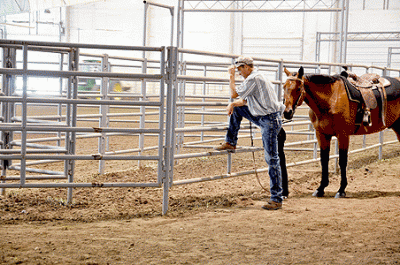 Long Description:
<p>A rider and horse wait on the sidelines as a tractor prepares the arena surface at the Ranchway Feed Indoor Arena Monday. Many competitions, including 4-H projects and equestrian events, take place the week before the public opening on Friday, July 31.</p>
Home Lead:
Home Page Lead Story

Print This Post