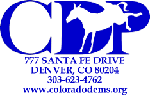 Press Release
DENVER – As revealed today in a Denver Post Story by Lynn Bartels and follow up on Coloradopols.com, numerous Republicans running for the Colorado State House have significant criminal backgrounds. In light of this news, Pat Waak, Chair of the Colorado Democratic Party released the following statement:
"With dozens of Republican state legislative candidates with criminal records as serious as wife-beating, drunk-driving, financial mismanagement, and threatening a police officer — and one charmer with EIGHTEEN failure-to-appear in court citations, well, I just have to wonder, how desperate are the Republicans?
Or maybe a better question is, if these law-breakers, some violent, are qualified to make our laws, to chair our legislative committees, to become Minority Leaders or, as they hope, Senate Presidents and House Speakers, what exactly disqualifies someone?  Should those that break the law in such serious ways, make the law?"
"What does it say about the values of Republican Leadership like Rep. Frank McNulty that violent and abusive individuals are considered "ordinary people" qualified to hold public office?"
Here are some examples, cited in detail on ColoradoPols.com:
Tom Janich, Republican of Adams County for House, arrested five different times with nine charges including 3 assault charges, 2 DUIs, and 2 charges of resisting a police officer and "Obstructing Police/Interference." The report says that Janich tore uniforms, threw officers around wildly, and threatened to sue and to kill them.
Keith Swerdferger, Republican of Pueblo for House, owns a construction company that has had 13 OSHA safety rule violations, serious enough that he had to pay over $32,000 in penalties. His company also has tax liens against it from California, and was a defendant in a case alleging that pension funds had been mishandled.
Clint Webster, Republican of Wheat Ridge for House: his record with the Jefferson County Sheriff shows that Webster fired two shots from a semi-automatic pistol at his ex-wife. When asked by arresting officers what his intention was when he fired, Webster stated something along the lines that he had warned his wife to stop bothering him and had even threatened to kill her, yet she 'showed up at his home anyway.'
Steven Rodriguez (R), HD-46: Rodriguez was arrested in 1996 for 3rd degree assault and domestic violence. He pled guilty and served one year of probation. Rodriguez was also divorced in 1996, and a temporary protective restraining order was issued.
David Balmer (R), HD-39: Balmer's long history of lying on his resume and sudden withdrawal under bizarre circumstances from a congressional race in North Carolina have been widely reported in Colorado media. Less reported is Balmer's 1995 divorce from his first wife, who filed a restraining order against Balmer and alleged 'constant' and 'repeated' verbal and mental abuse, as well as alleged physical abuse.

Print This Post