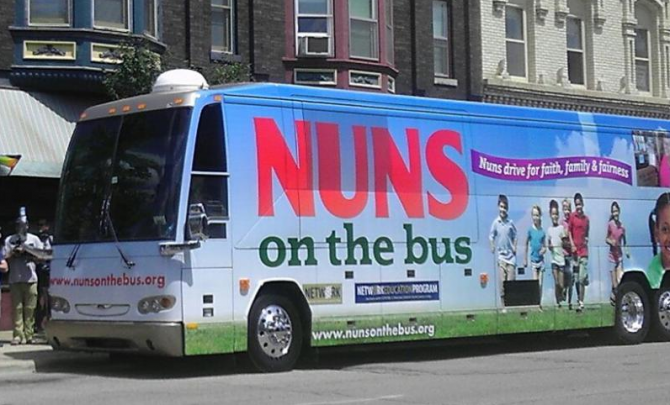 U.S. Catholic bishops have launched a much-ballyhooed "Fortnight for Freedom" in protest against HHS' birth control mandate and gay marriage, with masses at basilicas and sermons by such right-thinking prelates as Archbishop Charles Chaput of Philadelphia.
The national event is being upstaged, however,  by "Nuns on the Bus,"  a 14-day, nine-city bus tour by four Catholic nuns that is designed to protest steep reductions in federal food stamps, Medicaid and other programs that assist the poor.
When the bus pulled into South Bend, Indiana, it was greeted by "the same sort of enthusiastic crowds that often greet Notre Dame teams coming home after big wins on the road," according to the National Catholic Reporter.
The nation's social activist sisters have lately been investigated by the Vatican, upbraided for embracing 'radical feminist" themes, and assigned Seattle Archbishop J. Peter Sartain and two other prelates as overseers to make them toe the line.
The Vatican crackdown may prove a classic case of clerical error. … Read More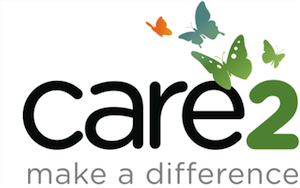 The group of Catholic nuns who have gone on a nine-state bus tour to protest the Paul Ryan (R-WI) budget plan should be "pistol whipped" according to one conservative radio host.
There's a bus full of nuns headed towards Washington to lobby against the Ryan plan, radio host Jan Mickelson told Rep. Tom Latham (R-IA) last week. Do you guys, do you have any power to pull the nuns on the bus over and pistol whip them?
They say he is evil, they say he is fake Catholic, he added. They're the ones that threw the first punch.
The nuns launched the tour after the Vatican challenged their focus on social justice work over advancing the priorities of the conservative Catholic bishops, including advocating against gay marriage and abortion. The purpose of the tour is to draw attention to the devastating effects further cuts to the social safety net would bring to millions of families nationwide. Republicans have made it clear they plan to either eradicate or privatize programs like Medicare and Social Security. … Read more:

Republicans Rebuff Catholic Nuns on the Bus
The Nuns on the Bus have traveled to nine states to visit the offices of Speaker Boehner, Paul Ryan, Eric Cantor on their nine state tour.
The tour was to bring light to the hardships of many millions who are living in poverty in America.
The nation that was once the most powerful in the world is struggling under job losses, unemployment figures are still too high and republicans have not passed one job bill of their own initiative.
These men, as leaders of the republican party live very well, they are paid very high salaries, have a Cadillac healthcare plan paid for by the taxpayers, a lifetime rich pension to live on, all benefits, dental, medical, free transportation, free meals, free car services and all paid hotel and travel expenses. They are not hurting.
Boehner, Cantor and Ryan didn't have the guts to speak to the catholic nuns who came and were assured a meeting with their government representatives. These cowards ducked out on their meetings and appointed times to meet with the nuns. … Read More
'Nuns on the Bus,' bishops out of gas
By Anthony M. Stevens-Arroyo
This Fourth of July celebrates the closing of two public Catholic events promoting the church's mission: Nuns on the Bus and the U.S. Conference on Catholic Bishops' Fortnight for Freedom. It's all too easy to cast these two in opposition to each other as if they each expressed a different Catholicism.
However, it would be more accurate to see them as they are: complimentary sides of the same equation. Think: Ying and Yang, salt and pepper, good cop-bad cop. The nuns do not disagree with the bishops that we must defend religious liberty and the bishops join the nuns in opposing the Paul Ryan budget passed by the Republican-dominated House of Representatives. What makes them different is the priority each places on their objective.
In a sense, these two events that started in June and conclude on the nation's birthday maximize the choices behind Catholic freedom. Paired together, they exhibit the full spectrum of Catholic commitments. Much like patrons of a cafeteria can choose either beef or chicken for lunch, Catholics have a varied menu this summer when engaged in social justice ministry. But if one chooses beef for oneself, that doesn't mean that other Catholics in line are denied the choice of chicken. … Read More

Pilgrims' Progress: Nuns Return Home After Bus Tour Against Ryan Budget
Last week, the most famous old lady on a bus was Karen Klein, whose torment by a couple of middle school monsters in Greece, New York, went viral (8 million clicks and counting) and netted her a new pension fund ($677,000 and counting). The bullies got one-year suspensions and Klein got a much-overdue vacation.
On Monday, the second most famous old ladies on a bus — the "Nuns on the Bus" — arrived in Washington after two weeks, nine states, 31 towns, and 2,700 miles on the road. They'd taken to the highway to decry Rep. Paul Ryan's proposed federal budget — now a cornerstone of the Republican platform — which slashes funding for food stamps, Medicare, and social services. Ryan, a practicing Catholic, has defended his budget as aligned with the teachings of the Church. The sisters, backed by American bishops, have a slightly different reading of the Gospel. "Many politicians offer deeply flawed theological justifications for the federal budget," said Sister Simone Campbell, the executive director of Network, a Catholic social justice group, and the Whoopi Goldberg-style ringleader of the Nuns on the Bus. "They oughta get some theological help." She added, "They gut the very programs that help Catholic sisters house the homeless, feed the hungry, and give children a chance."
It's been a turbulent few months for American nuns. In April, the Vatican handed down a report excoriating the Leadership Council of Women Religious — a group that represents most of the 57,000 nuns in the United States — for breaking with Church doctrine on social issues (e.g., abortion, contraception, homosexuality) and entertaining "radical feminist themes." The sisters were gobsmacked. "I've given my life to living in this way," Campbell said. "If you vow poverty, chastity, and obedience, you live open to embracing everybody. If the whole idea of Catholic sisters is to hug the world — and then they say you work too much with the poor? It hurt."
Campbell went on The Colbert Report earlier this month to announce the Nuns on the Bus tour. … Read More

Print This Post