Berthoud Museum Hosts Program on the American Hobo
By Laurie Hindman
Berthoud Recorder
From 1860 through the Great Depression of the 1930s it is estimated that 4 million men, women and children stole rides on freight trains, hoping to find work in another town. Although thousands died (an estimated 32,000 freight train riders were killed between 1890 and 1910 alone) hopping a train was used as free transportation to a better life.
Berthoud museum curator and train aficionado Tom Vaughan, whose railway nickname is "Auto City Slim," will be presenting a program, "Stealing a Ride, A History of the American Hobo," on Wednesday, Oct. 14 at 7 p.m. at the Berthoud Area Community Center. The program details the history and the life of the hobo with a slide show and lecture about the railway culture that spawned books, movies, music and myths.
Vaughan said trains have always held an allure for him. "I grew up near the train yards in Flint, Michigan and spent most of my days hanging out near the tracks and playing in box cars." He said he met a lot of hobos that would come through town, hiding on freight trains.
"The hobo is misunderstood," explained Vaughan. "He was not a bum, but was someone who would do chores for food and rode the rails in search of work. It was not a lifestyle choice, but a means to an end."
According to Vaughan, the term "riding the rails" meant literally perching on rods suspended between the wheels. "The rod is about the size of your finger. There were two of them that ran beneath the cars. Riders would take pieces of wood about eight inches square, put it on the rods, sit on that and ride."
In addition to being the museum curator, Vaughan is a professional photographer who years ago did a photojournalism project on the American hobo. He not only studied the history of the hobo through research and extensive reading, but also hopped trains all over the west, photographing modern day freight train riders.
Although hopping trains is no longer widely practiced, Vaughan said there are many people who still steal rides. However, it is as dangerous now as it ever was in the past. In the depression era the rail yards were patrolled by brutal guards known as "bulls" who would beat anyone caught hopping the cars. Today, there are violent gangs who attack and even kill riders, stealing whatever meager belongings they possess.
"They are the kind of people you don't want to be around," said Vaughan. He said that when he was doing his photojournalism work he never travelled alone and kept his distance from most people. "These are not your happy-go-lucky Charlie Chaplin types. Most of them are sketchy people."
In addition to the dangers of gangs, Vaughan said people die every year while trying to hop a moving train. "Most people who steal a ride don't do it while the train is moving. It is extremely dangerous to try to ride a moving train and young people in particular have met terrible fates trying to do so." According to the Federal Railroad Association website, more than 500 people die each year attempting to catch a ride on a moving train and many more are injured.
Vaughan's program will focus on the history of the hobo and the culture that grew out of the depression era. Vaughan, a.k.a. "Auto City Slim," will also share his photos of modern day hobos that have been displayed at numerous exhibits.
For more information, please call the museum at 970-532-2147.
News Image: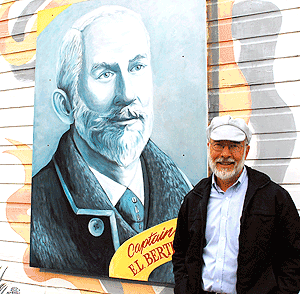 News Image: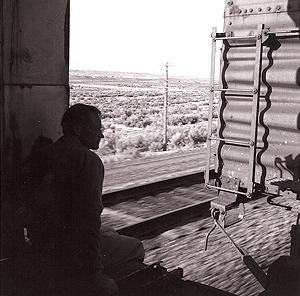 Long Description:
<p>Tom Vaughan is the Director of the Little Thompson Valley Pioneer Museum in Berthoud; he is also a professional photographer who has done extensive research on the American hobo.</p>
Long Description:
<p>A freight-car rider looks out from a boxcar at the passing scenery.</p>
Category Lead:
Category Secondary Featured Story
Home Lead:
Home Page Primary Featured Story

Print This Post