Berthoud 14, Fort Morgan 12
By Michael Hicks
Berthoud Recorder
Temperatures were dropping into the low 20s with a wind chill making it feel much colder. Oh, and there was snow. As the Berthoud players standing on the sideline Friday night at Max Marr Field said, this is football weather.
But with his team clinging to a 14-12 lead, sophomore quarterback Zach Ruebesam had to make a football play to preserve the victory and the Spartans' third straight win.
Six yards later, Ruebesam did just that.
His first-down run in the game's final minute sealed a fourth Tri-Valley Conference victory in five games this season and set Berthoud up for a first-place showdown with undefeated and top-ranked Mountain View next week.
"Our offensive line did a great job all night. We got rattled a little bit, but we came back. We did good enough to get the win," said Ruebesam, whose second-quarter 27-yard TD pass to Kent Flynn on fourth down and ensuing extra point by Colton Moore proved to be the game-winning points.
Ruebesam's late first-down run didn't go unnoticed by head coach Dan McGinn, either. "I feel good about the courage our quarterback had there in the end to make a run when we needed one first down," McGinn said. "That was a big play for Zach."
The win was Berthoud's first over Fort Morgan since Oct. 27, 2006.
Berthoud (4-2, 4-1 3A Tri-Valley Conference) opened the scoring with a Flynn 3-yard TD run late in the first quarter set up by a Zackary Smith blocked punt. Moore added the extra point for a 7-0 lead.
Fort Morgan (3-3, 2-3), which played in last year's state 3A title game, retaliated after both teams turned the ball over when Isaac Rodriguez scored from 5 yards out. But Tanner Schafer's extra-point attempt never came close, leaving Berthoud with a one-point lead.
Schafer entered at QB during the scoring drive after starter Fort Morgan starter Garrett Pape was knocked out of the game after being intercepted by safety Marcus Mathiesen. It was the first of two picks for the Berthoud senior. His second set up Ruebesam's late first-down run.
The Spartans' defense, which came up with two big stops a week earlier at Roosevelt, held Fort Morgan to just three first downs in the second half.
"It's just a testimony of our heart. We've had it the entire season," Mathiesen said of Berthoud's defense. "We just didn't stop. We knew we could stop them, and we knew we had to stop them. We know we can't lose a game in this division. It's so tough. We came together as a team and made plays. It's what we need to do."
One of the few times the Spartans didn't make a play was when the Mustangs scored their second touchdown, a fourth-and-goal pass from Rodriguez to tight end Jake Schneider to pull within two points. But Berthoud held tough on the ensuing two-point conversion run by Rodriguez, who was stopped short of the goal line.
"Our kids, when they needed to rally, they did," McGinn said.
---
BERTHOUD 14, FORT MORGAN 12
FORT MORGAN 6 6 0 0 — 12
BERTHOUD 7 7 0 0 — 14
B — Kent Flynn 3 run (Colton Moore kick)
FM — Isaac Rodriguez 5 run (kick failed)
B — Flynn 27 pass from Zach Ruebesam (Moore kick)
FM — Jake Schneider 5 pass from Rodriguez (run failed)
RUSHING — Fort Morgan: Isaac Rodriguez 20-133, Devon Deroche 5-14, Matt Godo 2-6, Randy Kallweit 6-14, Garrett Pape 3-13, Zach Greene 2-5, Ian Moreno 1-0, Tanner Schafer 5-(-20). TOTAL: 44-165; Berthoud: Kent Flynn 34-159, Zach Ruebesam 13-27, Chase Fraser 5-22. TOTAL: 52-208
PASSING — Fort Morgan: Pape 6-11-1, 58, Rodriguez 1-1-0, 5, Schafer 3-7-1, 8. TOTAL: 10-19-2, 71; Berthoud: Ruebesam 2-4-0, 35; Flynn 0-1-0, 0. TOTAL: 2-5-0, 35
RECEIVING — Fort Morgan: Moreno 4-37, Chris Dermer 2-21, Jake Schneider 1-5, Cory Dermer 1-9, Rodriguez 1-(-5), Kallweit 1-4. TOTAL: 10-71. Berthoud: Flynn 1-27, Fraser 1-8. TOTAL: 2-35
TOTAL OFFENSE — Fort Morgan 236; Berthoud 243
FIRST DOWNS — Fort Morgan 12; Berthoud 15
TURNOVERS — Fort Morgan 2; Berthoud 2
PENALTIES — Fort Morgan 6-60; Berthoud 5-50
PUNTS — Fort Morgan — 5-186; Berthoud — 5-135
---
GAME PREVIEWMountain View (6-0, 5-0 3A Tri-Valley Conference) at Berthoud (4-2, 4-1)
When: Friday, 7 p.m.
Where: Max Marr Field
Tickets: $5
Last meeting: Mountain View 14, Berthoud 12. Maxwell Svobodny hit two field goals, his second with 19 seconds left, as the Mountain Lions scored a 14-12 victory over Berthoud. The loss handed the Spartans their second straight loss. Jordan Major threw for one touchdown and ran for another to lead the Spartans.
Game notes: Berthoud got two touchdowns from Kent Flynn — one receiving and one rushing — to score its third straight win, a 14-12 victory over visiting Fort Morgan in a consistent snow at Max Marr Field. … Safety Marcus Mathiesen had two interceptions, including one late in the game. … Mountain View held Frederick to just 73 yards of total offense, including 12 yards on the ground, in a 26-7 victory on Thursday. … Quarterback Brennan Stine threw two touchdown passes, both to Steve Ryan, and running back Joey Hlushak, who scored in last year's win over Berthoud, had a 63-yard TD run against the Warriors.
TRI-VALLEY CONFERENCE FOOTBALL STANDINGS
CONFERENCE OVERALL PF PA
Mountain View 5-0 6-0 190 70
Windsor 4-1 5-1 191 90
Berthoud 4-1 4-2 149 109
Northridge 4-1 4-2 138 92
Silver Creek 3-2 4-2 122 99
Fort Morgan 2-3 3-3 147 99
Roosevelt 2-3 2-4 119 92
Fort Lupton 1-4 1-5 26 183
Frederick 0-5 1-5 32 159
Sterling 0-5 0-6 28 168
THIS WEEK'S RESULTS
Mountain View 26, Frederick 7
Berthoud 14, Fort Morgan 12
Northridge 16, Fort Lupton 0
Windsor 18, Roosevelt 12
Silver Creek 41, Sterling 8
NEXT FRIDAY'S GAMES
Windsor at Fort Morgan, 7 p.m.
Mountain View at Berthoud, 7 p.m.
Silver Creek at Fort Lupton, 7 p.m.
Sterling at Frederick, 7 p.m.
Roosevelt at Northridge, 7 p.m.

News Image: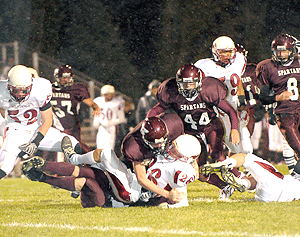 Long Description:
<p><span style="font-size: small;"><span style="font-family: arial,helvetica,sans-serif;">The win was Berthoud&rsquo;s first over Fort Morgan since Oct. 27, 2006.</span></span></p>

Print This Post