"If I Only Had a Brain Parade" Thursday, Sept. 24, 4 p.m., starting at the library with unique and imaginative scarecrows parading to the Farmers' Market in historic downtown Berthoud, Mountain Avenue and Third Street Depot Park.
Judging and prizes will be from 4:30 to 5:30 at the market. Volunteers will help "plant" the scarecrows in barrels along Mountain Avenue and other downtown spots from 5:30 to 6:30 that evening.
Make Your Scarecrow
Monday, Sept. 21, 4-5:30 pm, Tuesday, Sept. 22, 3-5 p.m., or Wednesday, Sept. 23, 2:30-4:30 p.m. Come for one or more afternoons at Berthoud Community Library's conference room, 236 Welch. Bring old clothes, plastic grocery bags, assorted notions, decorations, hats, etc. Wood frames, stuffed heads, and some simple decorating materials provided. Or, you may pick up a frame to make one on your own. Be sure to come back with your completed scarecrow in time to meet the parade on Sept.24 at the library.
Prizes and Awards
Best Dressed

Best Scarecrow by a Group

Best Theme

Best Traditional

Most Creative

Most Humorous

Most Likely to Scare the Crows

Most Playful

Most Whimsical

Prettiest

Most Harvest-Like

Most Surreal
News Image: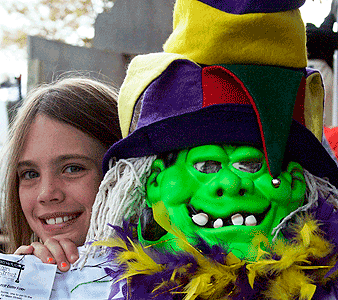 Category Lead:
Category Primary Featured Story

Print This Post