Tammie Rempe
Thompson School District, Nutrition Services Director
With the rise of childhood obesity in recent decades, it's important for parents to take an active role in shaping food choices for their children. The Thompson School District understands the need for children to have healthy options during the school day, and current breakfast and lunch menus reflect national standards in nutrition.
All school menus are planned to meet nutrition goals as defined by the United States Department of Agriculture School Meals Initiative for Healthy Children. Meals are designed to offer a variety of foods, with emphasis on meeting Recommended Dietary Allowances for age-appropriate calories and the Dietary Guidelines for Americans. Specifically, breakfast meets an average of one-fourth of your child's daily calorie needs, and a lunch entrée with two sides meets about one-third of your child's daily calorie needs. Menu items aim to help your child reach nutrition standards for percent of calories from fat (ï'£ 30%) and saturated fat ( 10%), and adequate intake of protein, calcium, iron, vitamin A and vitamin C.
Studies have shown children who eat breakfast achieve higher academic scores, are more alert in class and behave better than kids who skip breakfast. The Thompson School District School Breakfast Program helps your child start his or her academic day with proper nutrition.
In the school lunch program, a variety of fresh fruits and vegetables are available to accompany daily entrées. Parents can nudge their child toward good nutrition by reviewing school menus in the morning and pointing them toward fruits and vegetables for their sides. For example, if orange chicken and rice are being offered, your child can choose peas as a side and receive vital nutrients, protein and fiber not typically provided in convenience-type snack or a la carte options. Milk is also offered as a side every day, and drinking milk with lunch is a great way for your child to receive the calcium necessary for bone growth and development.
If your child doesn't seem to like healthy foods, don't give up right away. Studies show a child often changes her or his mind about food choices. Sometimes it takes several times of exposure to a food before a child will decide he likes it. For this reason, parents can also help their children by incorporating fruits and vegetables into meals at home. You may feel your child is better off with a packed lunch, but with education on making healthy choices, she can receive all the essential nutrients from current school meals for a very affordable price.
For more information about school meals and how they stack up against other meals, please visit the Thompson School District Nutrition Services Web page at http://www.thompson.k12.co.us/departments/bs/nutrition/nutrition_home.html, and click on the link at the bottom titled, "How do school lunches compare with other lunches?"
Category:
Special Section – Health and Wellness
News Image: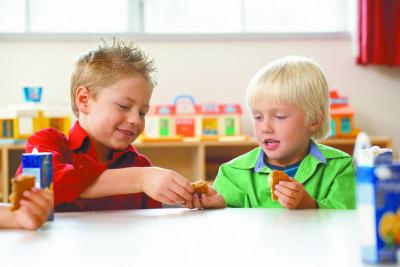 Category Lead:
Category Primary Featured Story

Print This Post