By Laurie Hindman
Berthoud Recorder
At the annual Turner Middle School Science Fair eighth grade students displayed projects that explored topics ranging from the provocative, such as "Which wave length is the best stimulator of plant growth" and "Are there changes in the size of a cell with the entrance of a drug?" to lighter fare such as "Which eye shadow lasts the longest?" and "Which type of popcorn leaves the least kernels?" (turns out it's Orville Redenbacher).
Regardless of whether the project was serious science or a more whimsical exploration, it was clear that most students put a lot of time and energy into their projects. "The kids did just great," commented Suzanne Cox, a TMS science teacher. "This was a wealth of education for my students. I am proud of them."
The students have been working on their projects since October. They developed their projects from the fields of chemistry, engineering, physics, health and behavioral science, zoology, earth and space, and environmental science. They posed a question, created a hypothesis, performed research, collected and interpreted data, while maintaining a detailed journal throughout the process.
The experiment had to have adequate number of trials and include a control element. For the final display, students produced an abstract, graphs which displayed their data, conclusion, literature review, bibliography and acknowledgements. Their conclusion explained whether they had proved their hypothesis, what mistakes were made and what implications their result had for science or the community.
"It is an incredible amount of work," commented science teacher Keith Gonzales. "They have put in hours and hours on their projects and have lived up to expectations superbly."
Both Cox and Gonzales agreed the learning goes beyond the experiment. "They have to present their entire project both to the class and the judges in a professional manner," said Gonzales. "There was a tremendous amount of learning that took place in the classroom presentations. The students gave excellent feedback and posed thoughtful questions."
Cox said the entire eighth grade team was involved. "It is interdisciplinary," explained Cox. "The graphs are created in Excel in math class, the literature reviews are written in literacy and the research is done in history class. All the teachers have a hand in it."
Judging took place Thursday morning in the middle school gym. The twenty-six volunteer judges were from the school district, former teachers, Colorado State University (both students and staff) and Kohl's, which also provided a grant to the school in support of the science fair. The judges were given clipboards with a checklist and specific criterion with which to assess the students' displays. That evening, students, parents and curious community members milled through the gym perusing the diverse projects and awaiting the award ceremony.
Gonzales led the presentation by thanking the judges and parents for their help with the fair and congratulating all the students who participated. "You put forth a great effort and a tremendous amount of hard work."
Science Fair Results
Earth and Space:1st Alexander Kinney
Environmental Science:
3rd Jessica Wilcox
2nd Andrea Vigil
1st Anna Meganhardt
Zoology:
Honorable Mention Dillon Brown
Honorable Mention Erin Briggs
3rd Allie Pfauth
2nd Kelsey Johns
1st Matt Ayers
Health and Behavioral:
Honorable Mention Quinton Urchek
Honorable Mention Lindsey Loger
3rd Savanna Pague
2nd Dylan McDonald
1st Morgan Thonhoff
Engineering:
Honorable Mention Darien Wyse
Honorable Mention Traye Koch
3rd Sierra Stippach
2nd Axel Ayala
1st Ashlyn Lentz
Botany:
Honorable Mention Alisha Golsan
Honorable Mention Emilie Henning
Honorable Mention Ashton Gerhardt
3rd Katlyn Baker
3rd Stefani Messick
2nd Hanna Abromski
1st Leandra Even
Chemistry:
Honorable Mention Kellie Ward
3rd Sarah Brickey
2nd Kali Thorson
1st Hannah Haggas
Physics:
Honorable Mention Trenton Pippen-Mandley
Honorable Mention Walker Orr
3rd Samantha Alexander
1st Tucker Skoric
1st Crystal Musser
Best in Show:
Gerri Roberts
News Image: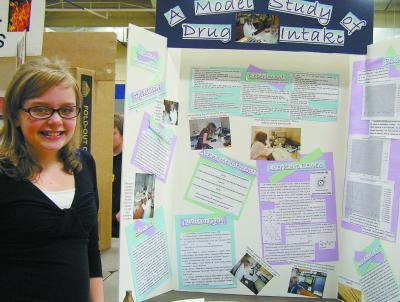 News Image: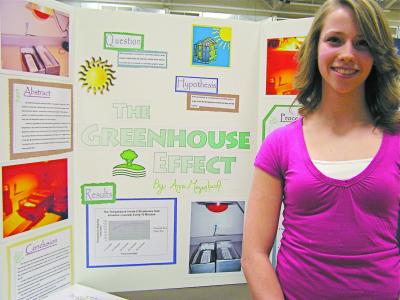 News Image:
News Image: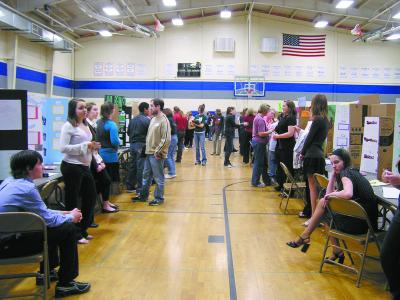 Long Description:
<p class="MsoNormal" style="margin-bottom: 0.0001pt;"><span style="font-size: small;"><span style="font-family: times new roman,times;">Gerri Roberts won &ldquo;Best in Show&rdquo; with her experiment titled A Model Study of Drug Intake. &ldquo;A lot of things happened that I didn&rsquo;t expect,&rdquo; said Gerri. &ldquo;That is when I learned the most.&rdquo;</span></span></p>
<p>&nbsp;</p>
<p>&nbsp;</p>
Long Description:
<p class="MsoNormal" style="margin-bottom: 0.0001pt;"><span style="font-size: small;"><span style="font-family: times new roman,times;">Anna Meganhardt stands by her project, The Greenhouse Effect. Anna won first place in the Environmental category. &ldquo;I thought it would be interesting with all the concern about global warming,&rdquo; said Anna. She said presenting to the judges was easy. &ldquo;The hardest part was just getting the experiment put together right.&rdquo;</span></span></p>
<p>&nbsp;</p>
Long Description:
<p><span style="font-size: small;"><span style="font-family: times new roman,times;">Alisha Golsan explains her science fair project to a judge. Alisha tested the effects various solutions had on the growth of sunflowers.</span></span></p>
Long Description:
<p class="MsoNormal" style="margin-bottom: 0.0001pt;"><span style="font-size: small;"><span style="font-family: times new roman,times;">Anxious students stand by their science fair displays, while waiting their turn to present their findings to the judges.</span></span></p>
<p>&nbsp;</p>
Category Lead:
Category Lead Story

Print This Post