By Sandy Barnes
Berthoud Recorder
Dressed in period costumes donated by Berthoud families, members of the Bridge Between Show Choir sang and danced their way through the musical "Give My Regards to Broadway" at Berthoud High School last weekend.
Performing classic George M. Cohan tunes including "Yankee Doodle Dandy" and his signature "Give My Regards to Broadway," the cast presented Shubert Fendrich's story of back stage theatre life in the 1930s with style and energy.
Max Kleber played the role of cash-strapped producer Dick Foster along with Caitlin Owens who portrayed ingénue Mary Collins of New Rochelle. Katie Kouns embellished her role of showgirl Betty from Virginia with an amusing Southern accent.
With his lean height, Joe Skrobacz filled the role of Legs Ruby, a bookie on the run from the mob. Marie Allison Andrade was a convincing Mona Monroe, an established actress who demands more than her fair share of compensation and attention.
Other members of the cast included Hunter Hawkins as Eddie Cowles, Jessalyn Neuhalfen as Trixie, Sonya Ropek as Flossie, NataLee Hawkins as Suzie, Maggie Stamets as Connie, Amelia Rael as Millie, Gabe Munoz as Mugsy, Dusti Waite as Babs and Connor Orr as Donald Harper.
An ensemble piece with ample opportunities to perform great songs while telling an intriguing story of old time Broadway, the musical provided great entertainment for those in the audience during the Friday and Saturday night performances.
Paula Latchaw, choral director for Berthoud High and Turner Middle schools, brought her talents to the production of "Give My Regards to Broadway." And the choreography of Karen Kleber and cast members added a dynamic sparkle to the musical. Drew Towles and Leigh Ann Kleber provided sound for the performances and Tom Gruman and Kyler Berezay directed lighting as members of the technical crew.
The show was dedicated to the memory of Donna Klump, mother of Karen Kleber and grandmother of Robby, Max and Leigh Ann Kleber.
News Image: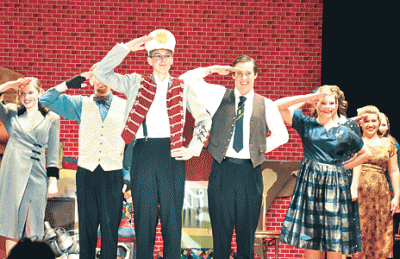 Long Description:
<p><span style="font-size: small;"><span style="font-family: arial,helvetica,sans-serif;">The Bridge Between Show Choir performs the Cohan classic "Yankee Doodle Dandy."</span></span></p>

Print This Post