Courtesy of EarthSky
A Clear Voice for Science
Visit EarthSky at
www.EarthSky.org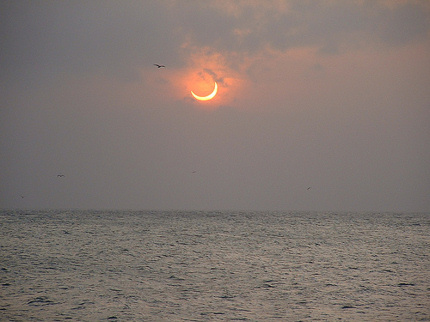 Photo courtesy of junction's photostream, some rights reserved.
If you live on the right spot on Earth, you can observe the partial eclipse of the sun today, on Tuesday, January 4, 2011. Given clear skies, the following places will see the partial solar eclipse: most of Europe, northern Africa, the Middle East, and the western and central portions of Asia.
Sorry, America … no eclipse for us. The next solar eclipse visible from the U.S. will be on May 20, 2012.
If you live in Western Europe or northwestern Africa, today's eclipse happens at sunrise and early morning. As seen from Asia – like Mongolia, western China and northwestern India – the partial solar eclipse occurs at late afternoon and/or sunset. Elsewhere, in the eclipse viewing area, the solar eclipse takes place sometime between sunrise and sunset. These two NASA links should enable to find out the eclipse times for your locality:
Local circumstances for partial solar eclipse of 2011 Jan 04
Javascript solar eclipse explorer
A solar eclipse can only happen at new moon. When the moon totally covers over the sun, it has called a total solar eclipse. However, since the moon only blocks out part of the sun today, it is a partial solar eclipse. The percentage of sun that is covered over by the moon depends on your place in the viewing zone. From southern Scandinavia, and the northern, central parts of mainland Europe, the moon blocks out more than 80% of the sun's disk.
Remember to use proper eye protection when watching today's eclipse!
Eye safety during solar eclipses
This is the first of four partial solar eclipses in 2011. There are a minimum of two solar eclipses in one calendar year, and can be as many as five solar eclipses. Five eclipses in one calendar year is quite rare, however. In fact, it will not happen until 2206. Even four solar eclipses in one calendar year is fairly rare. That will not occur again until 2029.
Although we in the United States won't be seeing a solar eclipse until May 20, 2012, our friends in Europe, Africa, the Middle East and Asia get to see a solar eclipse today, on Tuesday, January 4, 2011.
Written by Bruce McClure
Astronomy Picture of the Day from NASA/JPL
U.S. Naval Observator Astronomical Information center
The York County Astronomical Society

Print This Post