Take Advantage of the Season for Your Health's Sake
LiveWell Colorado, a nonprofit organization committed to reducing obesity in Colorado by inspiring healthy eating and active living, today released an entertaining "Top Ten" list of ways to fight obesity by simply enjoying summertime in Colorado.
"LiveWell Colorado is committed to the concept that healthy eating and active living can be achieved by everyone," said Maren Stewart, CEO of LiveWell Colorado. "We hope these tips serve as a reminder that small, positive lifestyle changes can result in big, sustainable differences."
LiveWell Colorado's Top Ten Ways to Enjoy a Healthier Summer include:
Buy fresh groceries at local farmers markets — Farmers markets are an excellent place to support local growers and buy the freshest foods available.

Visit a local park once a week — Colorado has beautiful parks that serve as a great backdrop for a pick-up game, summertime jog or Frisbee with the dog.

Park further away — While the weather is enjoyable, make the walk into work a pleasant stroll or park a little farther away from the entrance to a store.

Go swimming! — Swimming is an excellent source of exercise and can be enjoyed throughout life, whether you're doing laps or just jumping around with the kids.

Start a litter pick-up program in your neighborhood — Make your community more inviting for outdoor activities, while burning calories at the same time.

Plant a vegetable garden — Test your green thumb and enjoy the fruits of your labor with delicious salads and a lower grocery bill.

Begin a lunchtime buddy program at work — Encourage your co-workers to throw healthy potlucks or take lunchtime walks together.

Hike, bike or trike — No matter your age, athletic ability or socio-economic status, enjoy the thousands of free trails around the state.

Change your definition of eating out — Take date night outdoors and pack a healthy picnic dinner to take to a local park or one of Colorado's numerous outdoor concerts, many of which are free.

Give your grill a makeover — Host festive and healthy backyard barbeques by grilling chicken breasts, vegetable kebabs and lean beef, turkey or buffalo burger.
"We want to send the message to all Coloradoans that healthy eating and active living can be fun for everyone," added Stewart.
More info online at: www.LiveWellColorado.org.
Category:
News – Community
News Image: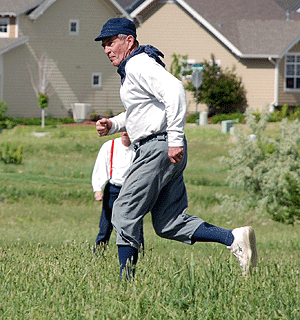 News Image: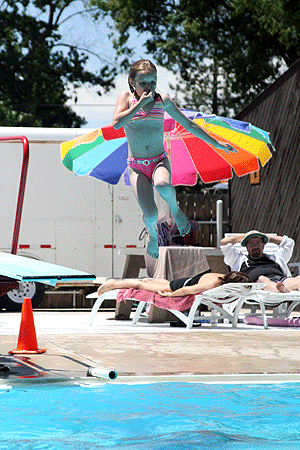 Long Description:
<p>Gary Wamsley recently rejoined Berthoud Blues vintage base ball. Team sports are a great way<br />to keep both your physical and social health going in a good direction.</p>
Long Description:
<p>Kaetlyn Duff, 9, makes a big splash at the Berthoud Pool.</p>

Print This Post