The Spartan Girls Varsity Basketball team took the floor after watching the JV team win 38-31 over their Thompson Valley rivals. The Varsity squads had similar records and similar rankings. This should have been a close game. It wasn't.
TV controlled the tip-off and scored first. The visitors ran up 5 more points while holding Berthoud scoreless for the first five minutes of the quarter. Amy Ekart finally put Berthoud on the board and Danielle Wikre added two more points.The Spartans came back enough to stay in the game, finishing the quarter at 8-12.
With 2 minutes remaining the half, the Spartans closed to within 2 points, but TV extended their lead, finishing the half 25-20.
As the Berthoud Girls continued to be plagued by being on the losing end of the turnover and rebound battle, TV ran up 8 unanswered points to start the second half. After that, the Spartans never came closer than 10 points to the Eagles. Final score 38-52.
The Eagles were able to get open under the basket and make their shots even as the Spartans never seemed to be able to work the ball into a favorable position.
Berthoud was also at a disadvantage on the bench, with only three reserve players to Thompson Valley's seven. The Lady Spartans had won 5 in row but the Eagles looked like a superior team tonight.
Results Last Game

T

eams

Q1

Q2

Q3

Q4

Final

Berthoud

8

12

7

11

38

Thompson Valley

12

13

14

13

52


















 

 

 

Spartan Girls Basket Ball Schedule and Results

| | | | | |
| --- | --- | --- | --- | --- |
| Date | Time | | Opponent | Results |
| 12/01/09 | 7:00 p.m. | @ | Greeley Central | 50-23 (W) |
| 12/09/09 | 7:00 p.m. | @ | Sterling | 43-47 (L) |
| 12/11/09 | 7:00 p.m. | vs | Greeley West | 65-62 (W) |
| 12/15/09 | 6:00 p.m. | vs | Ralston Valley (Poudre Holiday Invitational) | 40-35 (W) |
| 12/17 | 7:30 p.m. | vs | Legacy (Poudre Holiday Invitational) | 30-60 (L) |
| 12/19/09 | 2:00 p.m. | vs | Fairview (Poudre Holiday Invitational) | 29-35 (L) |
| 1/05/10 | 7:00 p.m. | vs | Mountain View | 61-58 (W) |
| 1/08/10 | 7:00 p.m. | @ | Windsor | 32-47 (L) |
| 1/09/10 | 7:00 p.m. | @ | Fredrick | 38-16 (W) |
| 1/12/10 | 7:00 p.m. | vs | Broomfield | 27-41 (L) |
| 1/15/10 | 7:00 p.m. | vs | Silver Creek | 42-35 (W) |
| 1/16/10 | 7:00 p.m. | @ | Roosevelt | 49-47 (W) |
| 1/19/10 | 7:00 p.m. | @ | Fossil Ridge | 56-50 (W) |
| 1/22/10 | 7:00 p.m. | vs | Skyline | 46-37 (W) |
| 1/26/10 | 7:00 p.m. | @ | Fort Morgan | 54-18 (W) |
| 2/02/10 | 7:00 p.m. | vs | Thompson Valley | 38-52 (L) |
| 2/05/10 | 7:00 p.m. | @ | Longmont | |
| 2/06/10 | 7:00 p.m. | vs | Niwot | |
| 2/09/10 | 7:00 p.m. | vs | Northridge | |
2673_61-jordan-sibrel-controls-the-tip-off-for-the-eagles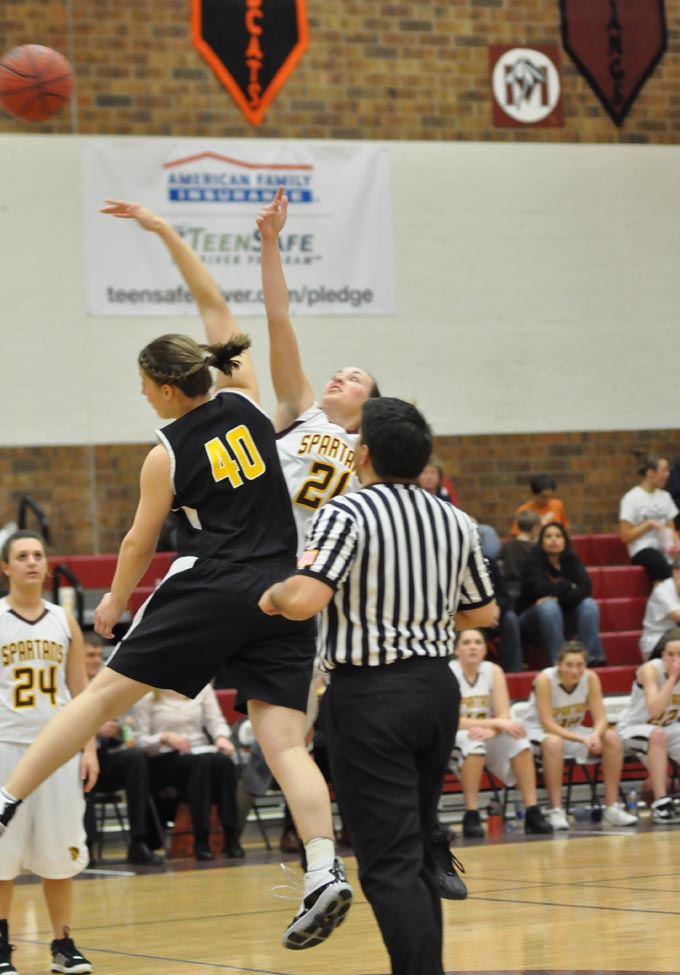 Print This Post