The Varsity Lady Spartans started of strong against the Silver Creek Raptors, controlling the opening tip off and quickly running off 5 points. The Raptors came storming back and tied the score at 5-5. A goal by Wikre put the Spartans ahead again with 3:30 left in the first quarter. Then 2-pointers by Fagler, Ekart and Sarah Loberg put the home team ahead 13-9 at the end of the first quarter.
The Raptors outscored Berthoud 6 to 4 in the second quarter and Berthoud held a slim 17 to 15 lead at the half. Silver Creek came out strong in the third quarter and out scored Berthoud 13 to 6, taking a 28-23 lead at the end of the third period.
The Spartans started of the last period with 8 unanswered points, taking the lead 31 to 28 on a goal and free throw by Heaton. The foul on Heaton was Silver Creek's 6th team foul and they would draw many more before the final buzzer sounded. The score was close as the teams exchanged the lead several times. Berthoud took a timeout with 34 seconds on the clock a one-point lead. What ever Coach Earl told the girls during that timeout must have worked. In the final seconds the Raptors committed three more fouls and Berthoud was 6 for 6 at the free throw line, winning a hard fought game 42 – 35.
The Lady Spartans are now 6-5-0 overall and 5-3-0 in league play
Spartan Girls Basket Ball Schedule and Results

| | | | | |
| --- | --- | --- | --- | --- |
| Date | Time | | Opponent | Results |
| 12/01/09 | 7:00 p.m. | @ | Greeley Central | 50-23 (W) |
| 12/09/09 | 7:00 p.m. | @ | Sterling | 43-47 (L) |
| 12/11/09 | 7:00 p.m. | vs | Greeley West | 65-62 (W) |
| 12/15/09 | 6:00 p.m. | vs | Ralston Valley (Poudre Holiday Invitational) | 40-35 (W) |
| 12/17 | 7:30 p.m. | vs | Legacy (Poudre Holiday Invitational) | 30-60 (L) |
| 12/19/09 | 2:00 p.m. | vs | Fairview (Poudre Holiday Invitational) | 29-35 (L) |
| 1/05/10 | 7:00 p.m. | vs | Mountain View | 61-58 (W) |
| 1/08/10 | 7:00 p.m. | @ | Windsor | 32-47 (L) |
| 1/09/10 | 7:00 p.m. | @ | Fredrick | 38-16 (W) |
| 1/12/10 | 7:00 p.m. | vs | Broomfield | 27-41 (L) |
| 1/15/10 | 7:00 p.m. | vs | Silver Creek | 42-35 (W) |
| 1/16/10 | 7:00 p.m. | @ | Roosevelt | |
| 1/19/10 | 7:00 p.m. | @ | Fossil Creek | |
| 1/22/10 | 7:00 p.m. | vs | Skyline | |
| 1/26/10 | 7:00 p.m. | @ | Fort Morgan | |
| 2/02/10 | 7:00 p.m. | vs | Thompson Valley | |
| 2/05/10 | 7:00 p.m. | @ | Longmont | |
| 2/06/10 | 7:00 p.m. | vs | Niwot | |
| 2/09/10 | 7:00 p.m. | vs | Northridge | |
Results Last Game

T

eams

Q1

Q2

Q3

Q4

Final

Berthoud

13

4

6

19

42

Silver Creek

9

6

13

7

35
1634-fagler-makes-it-9-to-6-with-2-min-remaining-q1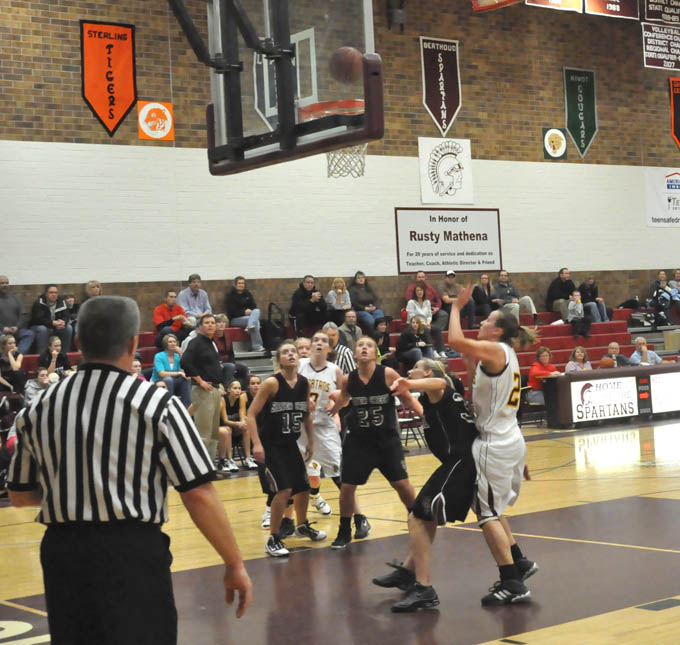 Statistics Last Game

#Name

FG/FGA

2FG

3FG

FT/FTA

Points

Rebs

Blocks

Steals

Assists

#3 McGinn, Megan




#5 Eckart, Amy




#21 Fagler, Kacey



#22 Perry, Julia

#24 Wickre, Daniellie

#32 Loberg, Amy

#42 Heaton, Stephanie
#43 Loberg, Sarah
Team Totals
Silver Creek

Print This Post