By Denise Schump
The Berthoud High school track team competed in the City to City Meet at Northridge High school in Greeley on Saturday. Several area schools came out for the meet including Loveland, Thompson Valley, Mountain View, Northridge, University and Greeley Central. The Spartan girls took fourth in the meet with the help of Courtney Mills who took first in the triple jump (35-2) and second in the long jump. Cheyenne Hall, fellow Spartan, followed one place behind Courtney in both events.
The two girls showed that they could do more than jump when they combined efforts with Anna Kirk and Ashley Prescott to take second place in the 400-relay event with a time of 51.34. Julia Leonard from Berthoud took 3rd place in the 110 yard hurdles and 4th in the 300 meter hurdles. Mollie Bonds helped earn points for the team by taking 5th place in both hurdle events. The girls throw team also came through with a second place win by Dillon Flagler in the discus with a throw of 96.11.
The Spartan boy's track team took sixth place in the meet with the help of Theo Mills, in the high jump. Mills was Berthoud's only top winner for the boy's team in the meet with an impressive jump of 5 feet 10 inches. Willy Lancaster took second place in the triple jump with a jump of 39-1.75 and fourth place, behind Berthoud's Greg Hutchins, in the long jump.
Joel Maly spun his way to third place in the discus (131.2) and fifth place in the shot put, behind Spartan Billy Schump, who threw for fourth place (42.65) in the event. Berthoud's boys relay teams also made impressive shows for the day. The 400-relay team, consisting of Spartans Shane Hart, Theo Mills, Steven Fiske, and Greg Glaser won third place, and the combination of Fiske, Hutchins, Taylor and Divine took home fourth place in the 1600-meter relay. Next week the Spartans travel to Frederick for the Frederick invitational meet.
Photos by James and Denise Schump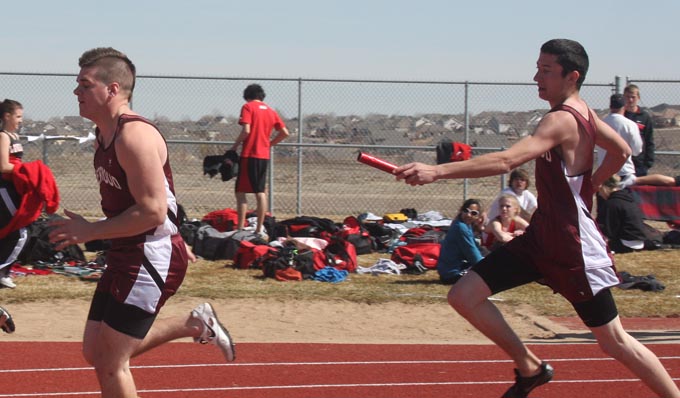 Print This Post