Berthoud Wrestling Performs Brilliantly at State Tournament
By Dan Karpiel
Sports Writer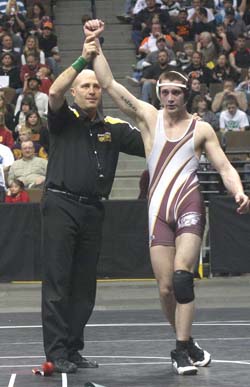 [1]The Berthoud High wrestling team capped off the 2010/11 season on Saturday evening at Pepsi Center with two state champions and five wrestlers finishing in the top four in class 3A. Seniors Alex Sadlo (140lbs) and JT Pickert (215lbs) won the state title in their weight classes. Junior Kegan Gavaldon (119lbs) and senior Robby Workman (135lbs) each placed third and senior Casey Couch (189lbs) finished in fourth place. As a team, the Spartans finished state in third place behind champion Alamosa and runner-up Lamar.
For Sadlo, who finished his senior wrestling campaign with an impressive 36-6 record, the state title marked the culmination of a lifetime spent wrestling. "I started wrestling in first grade, all that hard work helped and I couldn't be happier right now," Sadlo said as he caught his breath after winning the 11-5 decision over Alamosa's Pablo Ortiz. Sadlo added, "I did feel stronger (than Ortiz) but I've been working out in the offseason and didn't play football this year to just focus on wrestling."
Sadlo had control in his title bout from the opening whistle, nearly pinning Ortiz in each in the first two periods. "I just tried to keep throwing him on his back and just keep getting points," Sadlo said of the bout and added, "If you're up by more points you don't have as much pressure… I was just trying to get as many points as I can." Sadlo finished the first two-minute period with a 4-2 lead, extended his lead to 9-5 in the second before earning another two points in the final period to win 11-5.
Sadlo's commanding performance in championship bout put an exclamation point at the end of a stellar state tournament for the Spartan senior. In the opening round, Sadlo pinned Daniel Konig of Highland in 2:48, then won a 7-3 decision over Neal Schultz of Coal Ridge before pinning Remington Stocking of Lamar in an astounding 0:33. "I knew this one was going to be tougher," Sadlo said of the championship bout and added that he had not faced Ortiz prior Saturday night.
"If Alex wrestles his style he can wrestle with anyone in this state so we felt confident going in against (Ortiz) … Alex has worked really hard for a long time so it's great to see him up there," Berthoud High wrestling Coach Scott Pickert said of Sadlo's state title
Coach Pickert, who won two state titles for Berthoud in 1983 and 1984, had one more bout to coach after Sadlo's victory. In the penultimate 3A bout of the state tournament, Coach Pickert's son JT would be squaring off with undefeated Clint Myers of Salida for the state title in the 215lb class. Myers, who won the state title in the 189lb class last season as a sophomore, entered the state tournament ranked first in the 215lb class and boasted a 41-0 record. Pickert acknowledged Myers' impressive resume saying, "Everybody had him winning it and thought he was going to kill me … but I was a lot more relaxed then I thought I would be."
After getting position on Pickert, Myers took a 2-0 lead before nearly being pinned and seeing Pickert even the score at two points apiece. In the second period, Pickert earned one point for an escape and took the lead 3-2. He would not relinquish the lead and held on for the upset victory.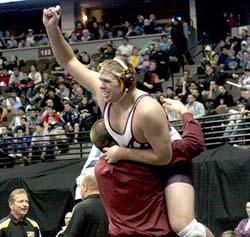 [2]When holding onto a 3-2 lead entering the third and final period, Pickert knew he was in for the toughest two minutes of his wrestling career. "It seemed like a whole match," he said of the third period and added, "it was really hard…, but he was really tired, he probably hasn't gone very many six-minute matches." With Myers subdued and the final seconds ticking off the clock, Berthoud wresting coaches Pickert and Will Carron jumped up and down in elation for their second state title of the night. The Berthoud fans, who occupied an entire section at Pepsi Center just to the right of the 3A mat, cheered wildly for Pickert just as they had for Sadlo an hour earlier.
Speaking of his son's victory, an elated Coach Pickert said, "It's just an awesome accomplishment for JT. I always said with me being the coach and the boys wrestling, it's about them wrestling and not about me … no match was ever going to get in the way of our relationship as father and son." In response to his son's comment that his father is "one up on me (for state titles)" Coach Pickert said, "I'm more proud of the fact that he did it then I did it, this is his time now."
"It was pretty good state tournament, we thought we'd have a couple other kids in there placing but funny things happen down here. I've been coaching for 20 years and I still haven't figured how to get them to wrestle perfectly," Coach Pickert said summing up the Spartans' performance. The state titles for Pickert and Sadlo are the first championships for Spartan wrestling since Nick Ludwig's victory in 2008. The two state titles on Saturday night are as many as Berthoud has won over the course of the previous decade.