Berthoud 26, Sterling 13
By Michael Hicks
Berthoud Recorder
STERLING — First, Chase Fraser fumbled, turning the ball over to Sterling. Seven minutes later, Luke Engelhaupt returned the favor to Berthoud. Both starting quarterbacks — Zach Ruebesam and Alex Beardsley — combined for five interceptions.
It was that kind of game.
But, in the end, when the Spartans needed a play Friday night at Tiger Field, they got one from Graham Shaw and Joel Maly. Shaw forced a Jake Baker fumble with 4 minutes, 13 seconds remaining and Maly recovered. The eighth of nine turnovers set Berthoud up in Sterling territory and Fraser made up for his earlier miscue with a 24-yard touchdown scamper as the Spartans finally put away the winless Tigers, 26-14.
While the Spartans won for the fifth time this season — all of the wins coming in the 3A Tri-Valley Conference — this game was anything but pretty. Sloppy might be a more appropriate way to describe it.
"It was," Berthoud head coach Dan McGinn said of the game being sloppy. "We talked about it with the kids at halftime and again in the second half. Particularly, they (Sterling) went down and scored. Then we get down to the 1-yard line and don't get the ball in. To me it's mental at that point. You've just got to focus. I talk about that all the time. At times we weren't and that's my job and my responsibility. I got to go back to the drawing board so that we can get our kids focused continuously when we're on the field."
There was no doubt the Spartans' defense was tuned in after Sterling tied the game early in the third quarter. A 65-yard hook-and-lateral play, culminating in a Baker 58-yard score on the second play of the half, tied the game at 14. Baker also scored Sterling's first TD, a 3-yard run to give the Tigers a 7-6 second-quarter lead.
After Flynn scored on a 21-yard run to put Berthoud (5-3, 5-2 3A Tri-Valley) ahead 20-14 late in the third, the Spartans' defense flexed its collective muscle by holding Sterling (0-8, 0-7) to a pair of three-and-outs and forcing four fourth-quarter turnovers.
"Our team has been doing a lot of good thing on defense. In the second half, our coverage started clicking just perfectly. We were playing great ball," Maly said. "Marcus (Lucero) had a great Cover-2 interception. Corey (Wilcox) tipped it up and Marcus Mathiesen gets a pick. Then I was unaccounted for, Graham (Shaw) punched the ball out and it was right there."
Ruebesam ran for one score and threw a 13-yard strike to Pat Conrey in the first half before Fraser, who has started the last three games since replacing the injured Greg Glasser late against Roosevelt four weeks ago, rushed for a team-high 123 yards and capped the scoring with his fourth-quarter TD run.
"We made mistakes all game. We just wanted to come out and finish the game, come home with the victory," Fraser said. "We were lucky enough to do that."
---
BERTHOUD 26, STERLING 14
BERTHOUD 6 8 6 6 — 26
STERLING 0 7 7 0 — 14
B — Zach Ruebesam 2 run (kick failed)
S — Jake Baker 3 run (Alex Harris kick)
B — Pat Conrey 13 pass from Ruebesam (Conrey from Ruebesam)
S — Baker 58 pass from Alex Beardsley (Harris kick)
B — Kent Flynn 21 run (run failed)
B — Chase Fraser 24 run (kick failed)

RUSHING: Berthoud — Chase Fraser 11-123, Zach Ruebesam 17-31, Kent Flynn 24-118. Total: 52-272. Sterling — Jake Baker 18-42, Alex Beardsley 9-2, Jace Rhodes 1-(-1), Luke Engelhaupt 12-70. Total: 40-113.
PASSING: Berthoud — Ruebesam 10-18-2, 109; Sterling — Beardsley 9-19-3, 178
RECEIVING: Berthoud — Pat Conrey 5-66, Fraser 1-14, Flynn 2-16, 2-13; Sterling — Dalton Reinhardt 6-80, Baker 2-93, Braydon Guenzi 1-5.
TOTAL YARDS: Berthoud 381; Sterling 291
FIRST DOWNS: Berthoud 14; Sterling11
TURNOVERS: Berthoud 4; Sterling 5
PENALTIES: Berthoud 7-77; Sterling 6-71
PUNTS: Berthoud — Colton Moore 4-100; Sterling — 7-198
---
Berthoud (5-3, 5-2 3A Tri-Valley Conference) at Silver Creek (6-2, 5-2)
When: Friday, 7 p.m.
Where: Longmont High School, Everly-Montgomery Field
Directions: From Berthoud, take US-287 South toward Longmont. Turn right onto 11th Ave. Travel about a half-mile and turn left onto Sunset St. Longmont High School and Everly-Montgomery Field will be on the right.
Tickets: $5
Last meeting: Oct. 24, 2008, Berthoud 28, Silver Creek 6. Jordan Major threw for one touchdown and ran for two others and Berthoud scored 21 unanswered points in the fourth quarter to secure the third seed out of the Tri-Valley Conference for the 3A state playoffs. Kent Flynn capped the victory with a 34-yard interception return for a TD.
Game notes: Berthoud forced four turnovers, including three interceptions of Sterling QB Alex Beardsley, in a 26-14 road victory last week. … Joel Maly recovered a late fourth-quarter fumble and sophomore running back Chase Fraser scored eight plays later from 24 yards out to finish off the feisty Tigers. … A Berthoud victory would lock up no worst than the No. 3 seed in the Tri-Valley and a playoff spot. … Silver Creek fell behind 17-0 and couldn't rally in losing 24-13 Saturday to Frederick, which is just 3-5 this season, 2-5 in conference play. … Austin Apodaca threw two fourth-quarter TD passes vs. the Warriors, but his interception in the final two minutes was returned for a Frederick score. … Cody Alme leads Silver Creek in rushing and Brett Wright is the team's top receiver.
TRI-VALLEY CONFERENCE FOOTBALL STANDINGS CONFERENCE OVERALL PF PA
Mountain View 7-0 8-0 218 83
Windsor 5-2 6-2 233 143
Berthoud 5-2 5-3 181 130
Silver Creek 4-3 5-3 170 129
Northridge 4-3 4-4 163 130
Roosevelt 4-3 4-4 173 105
Fort Morgan 3-4 4-4 199 152
Frederick 2-5 3-5 78 193
Fort Lupton 1-6 1-7 38 254
Sterling 0-7 0-8 63 216
LAST WEEK'S RESULTS
Berthoud 26, Sterling 14
Frederick 24, Silver Creek 13
Roosevelt 36, Fort Lupton 6
Fort Morgan 20, Northridge 18
Mountain View 21, Windsor 7
FRIDAY'S GAMES
Roosevelt at Fort Morgan, 7 p.m.
Northridge at Mountain View, 7 p.m.
Berthoud at Silver Creek, 7 p.m.
Fort Lupton at Frederick, 7 p.m.
Sterling at Windsor, 7 p.m.
News Image: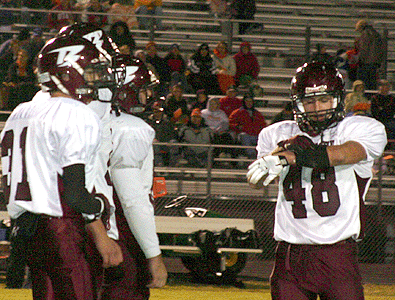 Long Description:
<p>Berthoud improved to 5-3 overall with the win.</p>
Category Lead:
Category Secondary Featured Story

Print This Post