Bailie Holst placed eighth in the all-around at the Region 3, Level 8 Junior Olympic Regional Gymnastic Championships in Norman, Okla., on April 25-26.
The Berthoud gymnast was one of 100 Level 8 competitors to qualify for the meet from Colorado. The regional competition consisted of 350 gymnasts from seven states — Arkansas, Colorado, Kansas, Oklahoma, New Mexico, Texas and Wyoming.
Holst finished with an all-around score of 37.775 to place eighth in the Junior 3 age division. She also took 10th on the balance beam and 12th on the floor exercise, 12th on the bars, and 16th in the vault. Her all-around score was the second highest among the 100 competitors from Colorado.
Head, Assistant Volleyball Coaches Needed
Gold Crown volleyball head and assistant coaches are needed for the fall season.
Interested parties should fill out a coach's application form at www.BYAASports.org and mail it to BYAA, Attn. Volleyball Director, P.O. Box 554, Berthoud, CO 80513.
For more information, call Joan Nienaber at (970) 593-8769.
Holland Helps Ice To Get Over .500
LOVELAND — Omaha quarterback James McNear hit running back R.J. Rollins with a 23-yard TD strike with four-tenths of a second remaining Saturday night as the Omaha Beef ended Colorado's three-game winning streak with a 70-68 Indoor Football League win over the Ice at the Budweiser Events Center.
McNear finished the game 17-of-31 for 282 yards and four touchdowns for the Beef (5-2). But Colorado quarterback Justin Holland wasn't too shabby himself. He was 15-of-23 for 201 yards and five scores, but he was also intercepted twice.
Omaha led by 18 late in the second quarter before the Ice scored 21 straight points to take a 44-41 advantage. From there on the teams traded the lead seven times with Colorado taking a 68-64 cushion with 44 seconds left on a Holland to Josh Gibson 3-yard scoring strike. But it wouldn't be enough.
The Ice return to action Saturday night at the Budweiser Events Center to play the Fairbanks Grizzlies. Kickoff is set for 7 p.m.
Fourth-Grade Football Coaches Needed
The Berthoud Youth Athletic Association is in need of a head coach and assistant coaches for the 2009 fourth-grade football team. Coaching commitment includes attending coaches' clinics and meetings, completing the responsible coaching online and in-person training, attending the BYAA football camp July 27-31 from 5-7 p.m., planning for and leading practices three nights a week no more than two hours in length starting Aug. 3 and running through the end of the season in late October and coaching games on Saturdays starting in late August.
If anyone is interested in coaching, contact Jeff Bonds, BYAA Director of Football, at (303) 229-3888 or footballbyaa@live.com.
BYAA Still Taking Youth Football Applications
The Berthoud Youth Athletic Association has continued taking applications by mail for the 2009 youth football season. Seventy-nine players registered during the in-person sign-up period last month.
While teams are allowed to have between 22 to 25 players per team in grades four through eight per the Longmont Youth Football Association rules, BYAA is hopeful to get 18 players minimum per team. As of Sunday, the number of registered players per team were — fourth grade (15), fifth grade (14), sixth grade (23), seventh grade (20), eighth grade (13).
Anybody interested in registering to play may due so by going online to www.byaasports.org and printing a player/parent sign-up form and mailing that along with a $50 deposit or the full registration fee to BYAA, Attn. Football Registration, P.O. Box 554, Berthoud, CO 80513. Fees vary from $185-210, depending on the grade level.
For more information, contact Jeff Bonds, BYAA Director of Football, at footballbyaa@live.com or by calling (303) 229-3888.
Parks & Rec Registering for Summer Programs
The Berthoud Department of Parks and Recreation is holding registration through May 25 for the following summer activities — youth baseball (ages 8-13), T-Ball (ages 4-5), Coach Pitch (ages 6-7) and tennis team (ages 7 and up).
Cost is $45 for residents, $55 for non-residents.
For more information on each program or to register, visit http://www.berthoud.org/parks_rec/park_rec_home.html or call recreation coordinator Brian Barnes at (970) 532-1600.
News Image: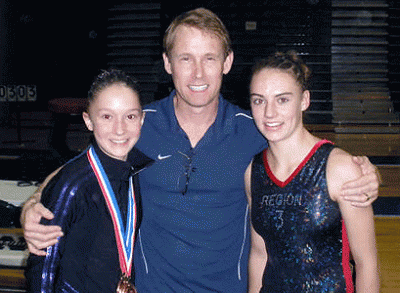 Long Description:
<p>Local gymnasts Jamie Quere and Bailie Holst with 1984 Olympic champ Bart Connor.</p>

Print This Post