Friday, April 20, 2012 7:30 – 11:00 PM 
Public Star Night at the Little Thompson Observatory
850 Spartan Ave at Berthoud High School
(park east of the high school; directions are posted on the website, www.starkids.org).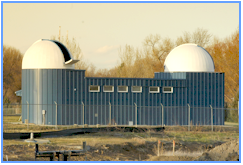 The  speaker for the evening will be Monte Henderson, a senior program manager at Ball Aerospace & Technologies Corp. in Boulder, CO. His talk will feature the Deep Impact Mission to Comet Tempel1.
On July 4th, 2005, NASA's Deep Impact program completed a highly successful mission to explore the interior of a comet. Deep Impact's excavation of the comet Tempel1 drew worldwide attention and was widely acclaimed as a tremendous scientific and engineering success. The mission was, by any measure, NASA's most widely followed unmanned mission ever, and one of its most popular of all time.
At the heart of the mission was the project team from Boulder's Ball Aerospace & Technologies Corporation. A company best known for its canning jars (Ball Jars) had successfully proposed, designed, built, tested, and flown a highly sophisticated two part spacecraft that smashed into a comet 83 million miles away and successfully relayed nearly 12,000 images of the comet taken before, during, and after the collision.
Monte Henderson, Ball's program manager for the Deep Impact program will present a discussion of the Deep Impact mission.  The following topics will be highlighted:
Comets and Their Secrets, Why did NASA want to learn more about comets?
The Spacecraft, What did Ball design and build?
The Mission, What did the program accomplish and what did we learn?
Mr. Monte Henderson has been with Ball Aerospace & Technologies Corp. since 1990. Mr. Henderson worked on the National Defense Brilliant Pebbles Initiative (launched Oct 1992), the Hubble Space Telescope Near-Infrared Camera and Multi-object Spectrometer (NICMOS) Instrument (launched Feb, 1997), the NASA Space Infrared Telescope Facility (SIRTF, since renamed Spitzer) (launched Aug, 2003), NASA's Deep Impact mission (launched Jan, 2005), NASA's Kepler mission (launched March, 2009) and the Air Force Space and Missiles Systems Center's (SMC) Space Based Space Surveillance (SBSS) program (launched Sept, 2010). Mr. Henderson was also the Program Manager on the Kepler Mission, a mission to search for Earth-like planets orbiting nearby stars. Since 2010, Mr. Henderson has been the program manager for the Geodesic Dome Phased Array Antenna (GDPAA) program and the Affordable Common Radar Architecture (ACRA) program.
Before joining Ball Aerospace, Mr. Henderson worked at Lockheed Missiles and Space developing phased-array antenna missile guidance systems; and at the Los Alamos National Laboratories, designing intrusion detection systems in weapons development and storage facilities.
Mr. Henderson holds a Bachelor of Science Degree in Software Engineering, Embedded Systems from the New Mexico State University.
Weather permitting, after the presentation; visitors will be invited to look through the large telescope at various celestial objects.
Public star nights are held the third Friday of each month except July, when the LTO is closed for annual maintenance. No reservations are necessary for these nights. Just come and join in for the talk and some observing afterwards.
If you have any questions, please call the observatory information line at 970-613-7793 or check the LTO web site at: www.starkids.org

Print This Post