Friday, September 21, 2012 7:30 – 11:00 PM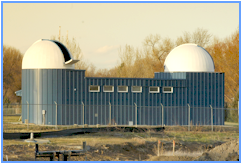 Public Star Night at the Little Thompson Observatory, 850 Spartan Ave at Berthoud High School (park east of the high school; directions are posted on our website, www.starkids.org).
Our speakers for this evening will be Drs. Irene and Steve Little of Estes Park.  The title of their talk will be "2012 – Doomsday or Hoax?"
According to the Long Count Mayan calendar, on Dec 21, 2012 the 13th Baktun ends (and a new one begins the following day.  For new age thinking, this will be the beginning of a time of spirituality. For the doomsday sayers, this will be end of the world.
The sun will have a major upheaval and will destroy life on the Earth, or the imaginary planet "Niburu", or a black hole or asteroid will crash into the Earth; devastating tsunamis caused by planetary alignments will ravage the surface of the Earth; or as the Sun passes across the Milky Way plane at the winter solstice (Dec 21, 2012), the central galactic black hole will make the Sun fall into the center of the galaxy or a beam of destruction from the galactic center will hit the Earth.  In recorded history there have been over 100,000 predictions of the end of the Earth, but how many have come true?
The Mayans had a calendar that depended on interlocking wheels, primarily based on the number 20.  The 13th Baktun will end on Dec 21, 2012, but the end of the 12th Baktun occurred in 1618 AD and nothing happened!  For the Mayans, the end of one Baktun was the beginning of another.  So who is making the money?
Drs. Stephen and Irene Little have been involved in teaching astronomy to undergraduates at a variety of institutions for over 30 years.  Stephen received his Ph.D. from UCLA and Irene from Indiana University.  Both have taught astronomy courses at CU including a course on Ancient Astronomies.   Irene and Stephen have published numerous scientific papers dealing with the evolution of stars and are currently interested in research in archeo-astronomy (astronomy of ancient cultures).  They remain interested in astronomy outreach through seminars for the Rocky Mountain Nature Association and in the adult education program of the Estes Park school system
Weather permitting after the presentation, visitors will be invited to look through our large telescope at various celestial objects.
Public star nights are held the third Friday of each month (except July, when we are closed for annual maintenance). No reservations are necessary for these nights. Just come and join us for the talk and some observing afterwards.
If you have any questions, please call the observatory information line at 970-613-7793 or check the LTO web site at: www.starkids.org
Meinte Veldhuis, President, Little Thompson Science Foundation

Print This Post