Public Star Night
Friday, May 16, 2014 7:00 – 11:00 PM
Little Thompson Observatory, 850 Spartan Ave at Berthoud High School
(park east of the high school; directions are posted on the website, www.starkids.org).
The guest speaker is Dr. Bob Stencel, professor of Astronomy at the University of Denver.
The title of his talk is "Astronomy in a time of climate change"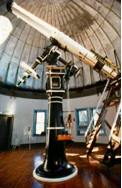 Prof. Stencel will survey the skyscape in terms of the increasing rates of terrestrial cloud formation and the spread of light pollution, at the same time that robotic telescopes augment classical observing. With a majority of the universe described as dark matter and dark energy, what is the message that the minority species (photons and baryons) can tell us? Only creativity, imagination and humor will allow us to advance science and knowledge despite our own limitations.
Dr. Stencel became interested in Astronomy as a result of Sputnik, and was fortunate to have as a mentor during high school, Ed Halbach, one of the founders of the Astronomical League. Following graduate study in astronomy at the University of Michigan, Dr. Stencel worked at NASA Houston and Greenbelt sites and NASA Headquarters in Washington DC, prior to joining Denver University in 1993, where he has been teaching astronomy and astrophysics since 1992. He also is Director of the observatories: Chamberlin (1994) and Mt. Evans (1997).
The observatory doors will open at 7:00 pm and the presentation will start at 7:30 pm. Weather permitting, after the presentation, visitors will be invited to look through the large telescopes at various celestial objects.
Public star nights at LTO are held the third Friday of each month (except July, when it is closed for annual maintenance). No reservations are necessary for these nights. Just come for the talk and some observing afterwards.
If you have any questions, please call the observatory information line at 970-613-7793 or check the LTO web site at: www.starkids.org
Public Star Nights at the Pioneer Museum, 224 Mountain Avenue in Berthoud, home of the historical 6" Brashear Refractor from John Bunyan, are held on the first Friday of each month. If you have any questions, please call the Bunyan observatory information line at 970-532-2147 or check the web site at: http://www.berthoudhistoricalsociety.org/bunyan.htm

Print This Post