Friday, October 15, 2010 from 7:00 – 11:00 p.m.
Public Star Night at the Little Thompson Observatory, 850 Spartan Ave at Berthoud High School (park east of the high school; directions are posted on our website, www.starkids.org).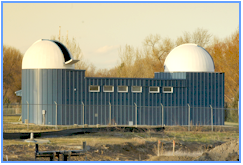 Our guest speaker for Friday, October 15 is Dr Steve Jordan from Ball Aerospace in Boulder, CO.
His talk will be on the NASA Chandra X-ray Observatory.
In the early 1970's NASA Administrator Dr. Charles Pellerin thought up and funded a series of missions called the Four Great Observatories. In launch order they are: The Hubble Space Telescope (HST), the Compton Gamma Ray Observatory (CGRO), Chandra (now CXC but then AXAF), and the Spitzer Space Telescope (SST). Ball Aerospace produced hardware for all four systems, three of which are still flying with CGRO, or, rather, its remains, now residing at the bottom of the Indian Ocean where NASA purposefully placed it a few years ago for safety reasons.
Now x-rays are just light rays that are vastly too energetic for your eye to see, in fact they pass right through bodily tissue and are used as diagnostic tools in medicine. But they also provide insight into many viciously energetic astrophysical processes such as those found around black holes, active galactic centers, the death throes of stars called supernovae, and things like that. Thus, for the first time, CXC is measuring some of the most exotic events ever seen, let alone imagined.
Launched on July 23, 1999, by the ill-fated space shuttle Columbia, the Chandra X-ray Observatory has been NASA's flagship mission for X-ray astronomy. Once operational, AXAF, as it was then known, was officially renamed for the late Indian-American Nobel laureate, Subrahmanyan Chandrasekhar (pronounced: su/bra/mon'/yon chandra/say/kar). Known to the world as Chandra (which means "moon" or "luminous" in Sanskrit), he was widely regarded as one of the foremost astrophysicists of the twentieth century. Trained as a physicist at Presidency College, in Madras, India and at the University of Cambridge, in England, he was one of the first scientists to combine the disciplines of physics and astronomy. Early in his career he demonstrated that there is an upper limit – now called the Chandrasekhar limit – to the mass of a white dwarf star. This discovery is basic to much of modern astrophysics, since it shows that stars much more massive than the Sun must either explode as supernovae or collapse to form black holes.
For his talk, Steve will present his cherry picked selection of CXC images and will describe in simple terms some of the underlying physics associated with each. In addition Steve will talk about the next X-ray telescope (IXO) to take Chandra's place when it is worn out. Steve is a great speaker, and since his Ph.D. is in high energy astrophysics he is preeminently qualified to discuss the images he is about to show, images that are far more aesthetic than you might imagine if you haven't seen any beforehand. This promises to be a very engaging talk.
Weather permitting after the presentation, visitors will be invited to look through our large telescope at various celestial objects.
Public star nights are held the third Friday of each month (except July, when we are closed for annual maintenance). No reservations are necessary for these nights. Just come and join us for the talk and some observing afterwards.
If you have any questions, please call the observatory information line at 970-613-7793 or check the LTO web site at: www.starkids.org
Sincerely,
Meinte Veldhuis
President, Little Thompson Science Foundation

Print This Post