By Shari Phiel
Berthoud Recorder
Pizza aficionados will be happy to learn that a Berthoud favorite is once again dishing up pies. Make that pizza pies. Brick Oven Pizza at 269 Mountain Ave. has reopened under the same name but with new owner Cliff Montano at the helm.
Montano, the former owner of Windsor Brick Oven Pizza and the current owner of a pizzeria in Eaton, has been in the business for more than three decades. Both of Montano's parents are Italian and started him in the business at a very young age.

"I've been doing this since I was 8 years old," said Montano whose family had pizza shops "up and down the East Coast."
Along with bringing some of the best-tasting brick oven pizza to Berthoud, Montano says he also plans to bring his dedication and service to the community to the area as well.
Montano noted, contradictory to his upbringing in New York City, "I have a thing for small towns," and hopes to recreate the family atmosphere found at his other restaurants.
For the past few weeks, Montano and his crew have been working to overhaul the main street shop. Along with new paint, flooring and replacing the light fixtures, Montano put stainless steel wall panels throughout the kitchen. He said he also had to replace both the front and rear doors which were damaged during a break-in in February.
The result is not only aesthetically pleasing, he notes, but practical as well. By using stainless steel, food preparation and clean up is not only easier but safer.
In celebration of the grand opening, Brick Oven Pizza is offering several different pizza specials. Stop in and pick up one of their flyers for details. Along with traditional handmade pizzas, the Brick Oven also offers specialty pizzas like the Deluxe, the Hawaiian and even the Veggie for those looking for a meatless option.
Pizza won't be the only thing Montano serves up. The Brick Oven also has strombolis (an turnover-type dish filled with meat, cheese and vegetables), hot and cold submarine sandwiches and wings. Pizzas are also available for take-and-bake at home.
Brick Oven Pizza is open from 11 a.m. until 10 p.m. Sunday through Thursday and from 11 a.m. to 11 p.m. on Fridays and Saturdays. Montano noted winter hours may change depending on demand.
Category:
News – Business
News Image: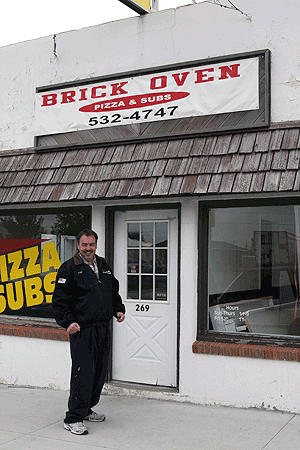 Long Description:
<p>The Brick Oven Pizza reopened this week with a new owner, Cliff Montano. With more than 30 years of pizza restaurant experience under his belt, Montano plans to provide customers with great food at great prices.</p>
Category Lead:
Category Lead Story

Print This Post