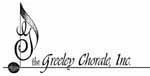 Greeley, Colo – – The Greeley Chorale is excited about their 46th concert Season: Musical Reflections of Home & Abroad. The Greeley Chorale is comprised of 90 auditioned adult singers – some of whom travel great distances to sing with this unique group. Its repertoire ranges from the traditional major choral works of the great composers to the spirituals, folksongs, and Broadway music of America. Through its support of local arts events, church choirs and school choirs, its local concert schedule, and its international touring schedule, The Greeley Chorale is proud to be an integral part of the Greeley community, striving to enrich the cultural life of Northern Colorado.
Dr. Galen Darrough, Director of The Greeley Chorale, is the Director of Choral Activities at the University of Northern Colorado. He has directed, and served as clinician to choirs in 20 states, the provinces and as guest conductor of the 1993 Nebraska Honor Choir, 1993 North Dakota All-State Choir, the 2001 and 2007 Area I Texas Honor Choirs, the 2002 Oklahoma All-State Junior High School Choir and the 2006 South Dakota All-State Choir. His broad experience in choral music include public school teaching at the junior and senior high level, community college, university, and with community groups. He will guide The Greeley Chorale into their 46th season with an outstanding musical line-up that includes:
Their season opening concert: British are Coming – The British are Coming! Saturday, October 23, 7:30 p.m. at the First United Methodist Church, 917 10th Ave., in downtown Greeley. This invasion will have them teaming up with the gifted young voices of the Greeley Children's Chorale to perform John Rutter's stirring Mass of the Children. This is a powerfully emotional composition that Rutter wrote shortly after the tragic death of his son. The Chorale will also perform works inspired from church, stage and folk songs cherished by British countrymen.
A Candlelight Procession will be this year's holiday concert on Sunday, December 19, 3 p.m. at the Union Colony Civic Center. The Chorale invites the community to join their faithful patrons, to attend and enjoy familiar and traditional choral works in celebration of the joyous Christmas season. You will bask in the musical glow of great holiday traditions from America, Europe and Latin America. You will also be invited to sing along (when appropriate)
The ever popular Greeley Chorale's Pops & Pasta annual fundraiser will be hosted twice on Saturday, February 26, 2011, first at 1 p.m. with a second dinner show at 6:30 p.m. at St. Mary's Parish Hall, 2222 23rd Ave., Greeley. This will be their Sweet 16th Pops & Pasta performance where the singers also serve as your wait staff. Your senses will be awakened by a traditional Italian meal complete with wine and songs. And don't miss the silent auction! People look forward to this "event" each year with all its unique offerings. The evening show is already almost sold out, so don't delay, get your tickets today.
The Chorale will give their season ticket holders a big finish with their spring concert Music of the Night, Sunday, April 3, 4 p.m. at the Union Colony Civic Center. This performance is dedicated to the stage and selections from great western traditions of opera and musical theater. This genre always attracts a crowd, so don't miss it! Conductor and Music Director Dr. Galen Darrough promises, "This show will lighten and inspire your heart and spirit."
The Greeley Chorale originated in 1964 as a community chorus under the musical direction of Dr. Howard Skinner. In 1970, the organization merged with the Greeley Philharmonic Orchestra conducted by Dr. Skinner and ultimately expanded its role into an independent community choir, with Mr. Harold Hamler as musical director in 1974.
Dr. Michael Jothen became musical director in 1978. Under Dr. Jothen, the Chorale expanded its concert repertoire, presenting concerts outside Greeley and bringing international exposure to Colorado in 1985 with a performing tour to Germany, the Netherlands, England, and Wales. In 1985, Dr. Robert Molison became the fifth conductor of The Greeley Chorale.
Then Dr. Carl Gerbrandt assumed musical leadership in 1987. During the summer of 1988, the Chorale was honored with an invitation from both the United States and Australian governments to sing at the opening Fourth of July ceremony at the World's Fair in Brisbane, Australia.
In 1990 under the auspices of the Greeley Chorale Board of Directors, the Greeley Children's Chorale was formed. The Chorale has provided a unique singing opportunity for young children of the area, like their season opening concert October 23 when they partner with the Children's Chorale. Additionally, the Chorale has repeatedly hosted choirs from many Weld County high schools in community choral festivals.
In 2003 the Chorale released its first professionally produced CD, a holiday collection titled "Sounds of the Season." You can enjoy a sample of that CD on their Web site at www.greeleychorale.org. While there, learn more about the Chorale's history, their Board of Directors, their conductors, and the singers.
When Dr. Gerbandt retired at the close of the Chorale's 44th season two years ago, Dr. Darrough started in his role as the Music Director and Conductor while also directing the 65-voice UNC Concert Choir and 50-voice UNC Men's Glee Club. He also continues teaching graduate choral music in Fraiser Hall at UNC where the Chorale rehearses every Wednesday evening from August through April.
Darrough has served in numerous capacities in the American Choral Director's Association (ACDA), including Colorado State President, Editor of the Colorado Choral Director, membership on the National Technology Committee, Southwest ACDA Repertoire and Standards Chair for Men's Choirs, and has recently wrapped up his term as President for the Southwestern Division of ACDA.
Darrough and The Greeley Chorale are happy to introduce their newest member, accompanist Alice Crawford. After nearly 30 years of musical service to the Greeley Chorale, accompanist Mary Haight retired last spring and Crawford was hired in August. Crawford comes to the chorale with an impressive resume. She has experience accompanying choral groups dating back to the 1970s and spanning the country from Virginia to Idaho with a few stops in between. With more than 30 years of experience as an organist/pianist The Chorale is sure she is up to the challenge of joining their musical family.
The Chorale is governed by a volunteer community Board of Directors, an Administrative Committee consisting of members from within the singing membership, and Dr. Darrough.
Their mission is to provide for, encourage, and support quality choral music for the enjoyment, cultural enrichment, and education of the community, including its youth, and to further the talents and musical growth of its individual members.

Print This Post